Talking about light lunch. In this recipe the ingredients remain small. Not blended as in the pesto version. Peeled and deseeded tomato. Basil, almonds, garlic and olive oil. 
The mixture rests for a couple of hours, in a fridge. This cools down the fresh cooked pasta. Can you leave garlic out of the equation? Yes, as you can hobble instead of walking.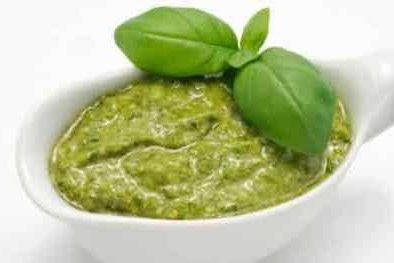 Whether it is the ubiquitous green pesto or the likewise sensational red one, pesto is light. Mix the pesto with fresh boiled pasta. You may let it cool down. But avoid conserving it overnight. It jeopardizes the consistency of pasta.
Serve with an extra drizzle of olive oil. And a handful of grated cheese. 
This is as typical as typical gets. The boiled zucchini sprigs and 'picchi pacchio'. Often served with broken spaghetti. And although served piping hot, this soup somehow restores. Even on a hot summer day. Try to believe.
It is not only a light dish. Eating tenerumi people seem to forget about the torrid summer heat. For the gourmets: tenerumi and mussels.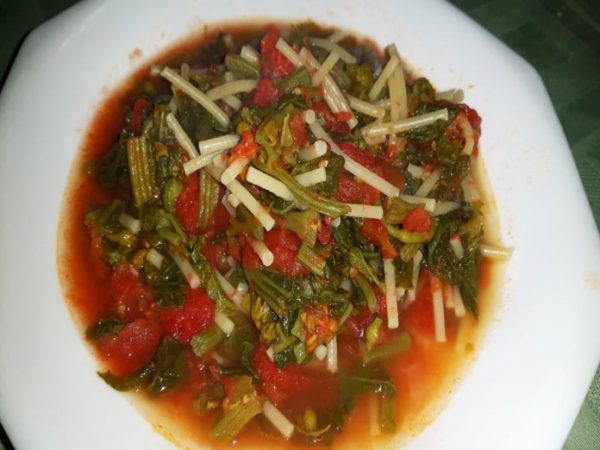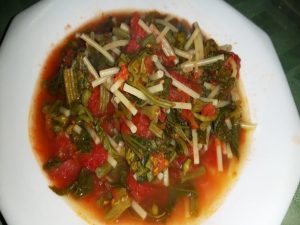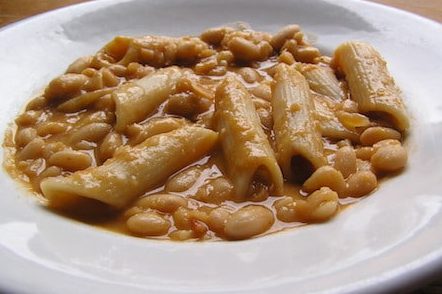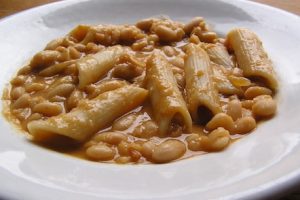 Another summer classic. Yes indeed, piping hot legumes at lunch. Fresh borlotti beans, tomato and onion. 
Some say, not inapposite, beans bear wind. Maybe not the wind you wish for on a hot summer day. But wind it is.
Pasta with beans is a recipe that acquires taste overnight. Some fry the pasta, some eat it cold. So it goes
Zucchini grow abundantly in summertime. There are hence many ways to prepare them. The mint version is both surprising and cooling. Diced zucchini are fried with garlic and mint. Wonderful with pasta, delightful as a side dish. 
The light version steams the zucchini. Leaving out the garlic? If you really must…