Lettuce improvise with pasta. What you basically do is make a pesto. Crush and grind lettuce, oil, garlic and some pine nuts. Cheese and basil are more than welcome, too.
Another pasta option comes with boiled stems. Treat the lettuce as if it were an ordinary vegetable. Boil your pasta in the same water the lettuce boiled in. Serve with cheese nuggets. A treat not only for cold winter days.
Lettuce improvise: battered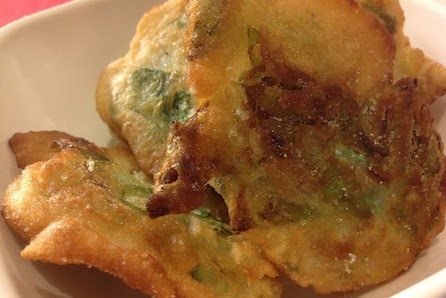 Lettuce has a very high water content. Which excludes mere deep frying. So prepare a thick batter. Mix flour with ice cold water, yeast, sugar and some anchovy fillets.
Make sure to dry your lettuce before immersing them in your batter.
This is an excellent aperitif snack or a tasty starter. Regarding potential dips: improvise.
Let us introduce lettuce soup. It is a part of the Italian minestrone family. Fry an onion and add vegetable broth and lettuce. Garlic is a recommended optional.
Some serve this soup with pasta. Making it a full-fledged minestra. Serve it with bread and it remains a soup.
You can blend the soup into a velouté. Adding some cream. If you really have to.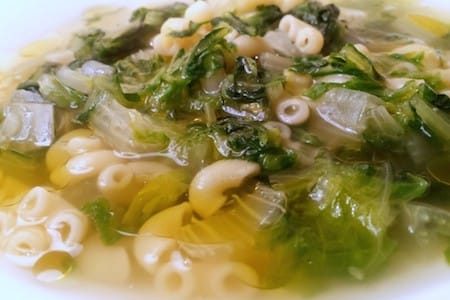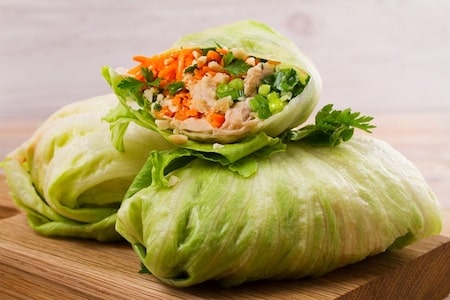 Wrapping a salad in lettuce? A salad in salad? Why not. Avoid very fresh leaves because they tend to snap. And into something hideous.
The technique is easy. If you know how to wrap a burrito. Regarding the filling: improvise. From fresh veggies to tuna or chicken. And add some light seasoning.
Another option is filling them with seasoned minced meat. Either steam or boil the roulades.
We admit this is not an easy technique. But very scenic indeed. Lettuce improvise.
Use a food extractor to get your lettuce juiced. Blend in some Xanthan gum to thicken. Once set, cut out rectangular slabs.
The seasoning is that of a typical Italian green salad: oil, vinegar and salt. Thicken the liquid with Xantham, too. Use a pastry bag to decorate.