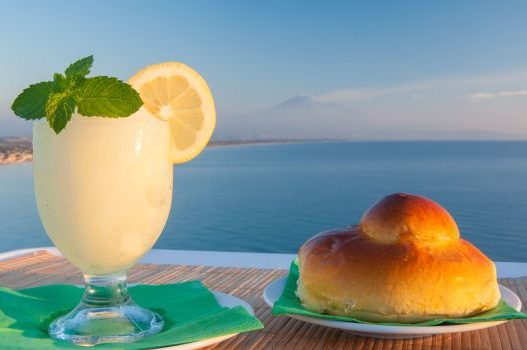 Lemon Granita
Three ingredients and a change of state. This is what preparing food is all about. Lifting simple ingredients to something much, much bigger than their sum.
Prep Time

10 Minutes

Cook Time

300 Minutes

Total Time

310 Minutes

Serves

4 People

Calories

500 kcal
Ingredients
500 ml of water

200 ml of lemon juice

200 grams of sugar
Instructions
Heat the water and add the sugar. Let it dissolve
Cool the liquid down and add the lemon juice
Freeze for about 30 minutes
Break the mixture up with a whisk
Replace the mixture in the freezer and repeat the operation
When the granita gets more solid, use a fork to break the crystals down
Serve straight away
Notes
Lemon
granita
is a classic
Sicilian
dish. Nowadays many use an ice cream machine to prepare this dessert. The
texture
though changes. The
machine
makes a smooth mixture. While the other technique leaves larger
crystals
. Some add one
egg
white. This apparently smoothens the granita. And it gives it a whiter hue. Worth a try.It can be topped off with some fresh
mint
. And served after dinner. But do not exclude the
breakfast
version. A must for those visiting Sicily. Breakfast for champions.