1. You know it's onions rings
Did you know onions rings date back to the 16th century? In India. They coated -and coat – vegetables and onions in chickpea flour before deep frying them. Until today pakora is wildly popular.
The first actual recipe comes from England, early in the 19th century. And it contained grated parmesan cheese. 
More than a hundred years later they became popular. In the United States of America. Of course. And many claimed fatherhood. Though it's the same batter used for fried chicken.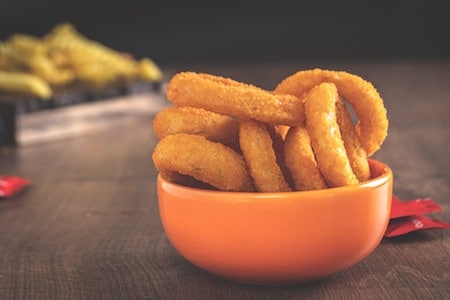 So simple, so delicious. The pungency of onions sets some people off. It does indeed tend to be overwhelming when served raw.
Slice your onions and add spoon of salt. Leave it alone for an hour, then rinse. The onions do not lose their taste. Only the unpleasant sharpness.
Add them to fresh cut tomatoes. With some olive oil and oregano. And you have yourself a king-worthy summer salad.
Sicilian greengrocers sell those ready baked. Early morning they bring their tray to a nearby bakery. Between two batches of bread the baker pops them in the oven. Don't worry about the black parts. Know you won't eat these.
You can do this at home. Bake your onions in a tray. At 200 degrees for half an hour.
What do you do with baked onion? Add it to a summer salad. Or make it into a whole onion salad. A dash of olive oil, some vinegar, salt and oregano. 
And for the courageous ones among you, smear it on bread. 
4. Do you know stuffed onion?
Did you know onions can be stuffed? And that it is terribly easy yet mighty tasty and good looking? 
Fill an oven tray with coarse salt. Cover about three quarters of your onion and bake for at 160 degrees for about an hour.
Cut their heads and spoon the soft pulp out. Mix it in a béchamel sauce enriched with plenty parmesan cheese.
Pour the mixture in the hollowed onions and serve on a bed of salt. So they don't tip over. Serve with breadsticks. 
Treating onions as a full-fledged vegetables. That's what you do when breading them. 
Season your breadcrumb well. With grated cheese, herbs and salt. Cover the peeled onion, drizzle some olive oil on top and bake. For about 30 minutes at 195 degrees.
This is a wonderful vegetarian main dish. And not only -but especially- in dire times. Or serve it as a side dish. It is excellent cold, too. And it looks so good!