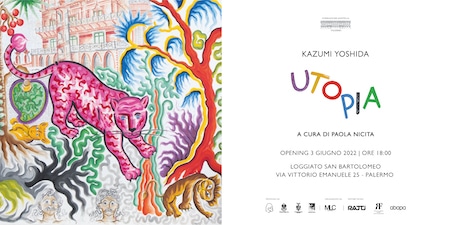 Kazumi Yoshida is in Palermo. Again. He came four years ago and knew he'd be back. This city is a treasure chest full of inspirational ideas. Already by breathing the air of Palermo you can feel its soul. This is a source of inspiration. You feel the past together with the present.
Most of the works are on display for the first time. Some of his tapestries and paintings have been specially made as a tribute to the city of Palermo.
Curated by Paola Nicita at the Loggiato San Bartolomeo, the exhibition remains till July 30. 
Kazumi Yoshida the artist
Kazumi Yoshida is the artistic director of the established New York Clarence House. He creates works of art and then transforms them into wallpapers and fabric, or vice versa.
The technical partnership too is impressive. Fondazione Antonio Ratti, Hermès, Villa Igiea Palermo – Rocco Forte Hotel, and the Academy of Fine Arts of Palermo. This means that the exhibition does not stop in the museum. It goes beyond. This very much shows not only the versatility but above all the overall appeal this artist has.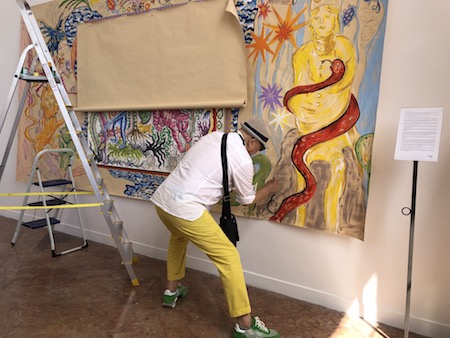 The central piece of the exhibition was conceived in New York. The surrounding structure though was completed by the students of Fine Arts in Palermo, and the master himself (photo).
Why he did that? Because they are the future. Students are the artists of tomorrow. Future and hope are recurrent themes in Kazumi Yoshida's work and philosophy. 
The illustrations of a yet unpublished children-poetry book is another nice example.
Kazumi Yoshida is a positive artist. 
Antonio Ticali, the Superintendent of the Fondazione Sant'Elia emphasised  his joie de vivre. And this positive vibes reverberates through the whole museum. 
Paola Nicita says: Yoshida's work is rooted in its elan vital, in the praise of the privilege of belonging to the cosmos, and in the importance of safeguarding its beauty.
The whole exhibition is a tribute to beauty and joy.
Kazumi Yoshida and Palermo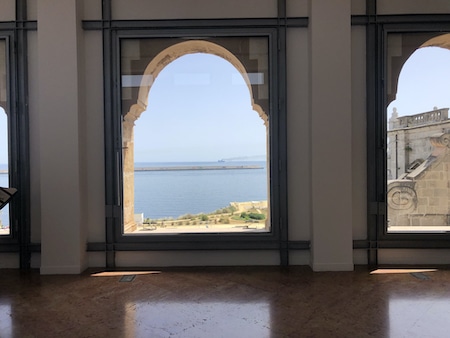 Kazumi Yoshida first came to visit the Manifesta biennial. And it was love at first site. He told how his French friends came to visit the city and never went back. They suggested him to look for a house in the city. A thought he seems to take rather serious.
It shows that Palermo is indeed an inspirational city. Not just to nasuki…
When in Palermo, please go and look for yourself. If not a surprise, the joy is overwhelming.