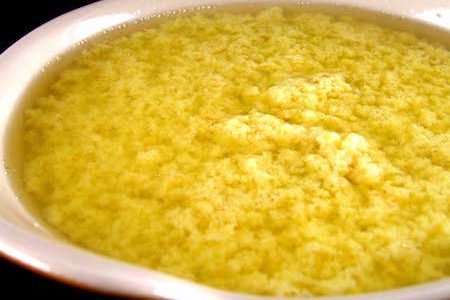 Italian egg drop soup
Italian egg drop soup or stracciatella is a phenomenon. And a paradox: a rich dish from the poor cuisine.
It is a ray of sun on a cloudy day. Pure comfort food!
Prep Time

5 Minutes

Cook Time

10 Minutes

Total Time

15 Minutes

Serves

4 People

Calories

285 kcal
Ingredients
1 litre of chicken broth

6 eggs

100 grams of grated parmesan cheese

parsley, qb

A pinch or salt
Instructions
Bring the chicken stock to a boil
Mix the eggs, cheese and parsley in a bowl
Add the mixture to the boiling broth
Lower the heat
Stir gently for about eight minutes
Serve the Italian egg drop soup piping hot
With a slice of toasted bread
Notes
Italian egg drop soup is easy to prepare but has a great impact.It is not exactly clear what broth people used. Many old recipes mention beef broth, brodo di carne. But then change idea and talk about chicken broth. Either work well. What is instead abhorrance is the use of vegetable broth. As it goes with popular preparations, they spread.
Stracciatella
originates in  Rome.  Others added new ingredients. In Emilia-Romagna they call this
soup from paradise
. They add lemon zest, nutmeg and marjoram.In the Marche region instead breadcrumb goes in. Making this a rather thick soup. Some add semolina to the soup.Stracciatella is comfort food. And you eat comfort food at home. Specially when things look bleak. So do not expect it on the menu of any restaurant.