The word involtini refers to rolls or roulades. An outer layer envelops a filling. The list is endless. Ranging from spring rolls to Polish zrari. The most known Italian version are probably the Roman saltimbocca. Veal, ham and sage. Technically it has no filling but since they are divine, we include them.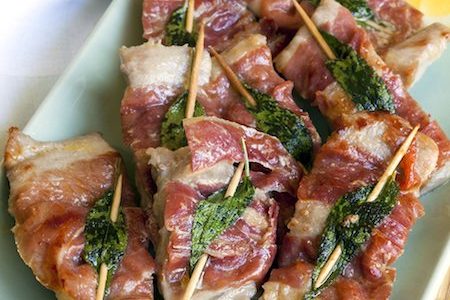 Involtini, Sicilian style
The Sicilian involtini stand out. Most contain the famous Sicilian signature: pine nuts and raisins. Add some bread crumb, caciocavallo cheese and you're half way there.
It is a brilliant way to stretch the more expensive ingredients. They form the outside layer and give the name to the dish. The stuffing is cheap. This is when frugality meets inventiveness. 
Swordfish is very popular in Sicily. The story goes that local fishermen sing a particular song. This mesmerizes the fish, making the job of catching them almost effortless.
Fine slices, a nice filling and into the oven. The filling varies. Palermo uses breadcrumb, capers, pine nuts, raisins and cheese. A slice of orange may separate them on a skewer.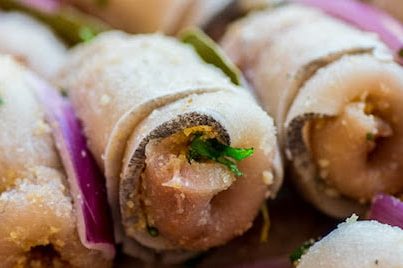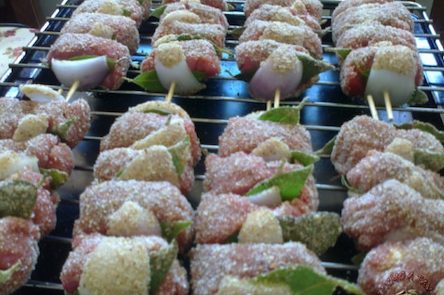 There are many kinds of meat involtini. The classic version has veal on the outside. Whereas the filling is similar to the one used in the swordfish variant. Bread, pine nuts, raisin, onion and cheese. 
The singular rolls are separated with a bay leaf and onion. And do not forget to coat them in breadcrumb.
Due to its form, aubergine is very adapt for making involtini. Fine slices may envelop many delicacies. Very nice are the aubergines filled with pasta. They are very scenic and tasty as well. 
Don't forget to fry  or cook them first. This goes for other vegetables, too. Steam your zucchini for example.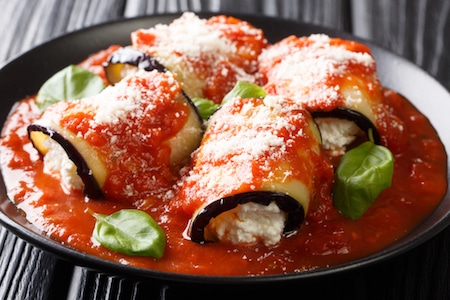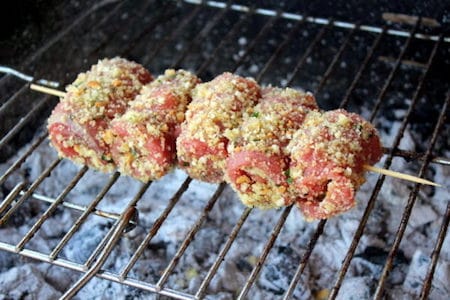 You may let your involtini simmer in tomato sauce. That sauce is then used to season pasta,'primo'. While rolls serve as 'secondo', main dish.
Instead of baking, try them on the barbecue. Avoid excessive heat. And bear in mind only the external layer needs cooking. But the cheese needs to melt.