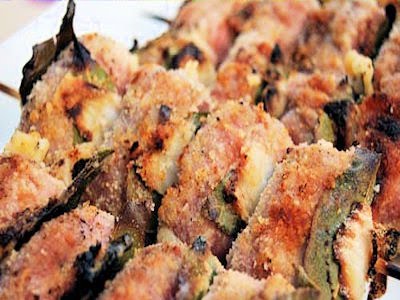 Involtini di Pioppo, Sicilian meat rolls
Risotto di verza -savoy cabbage. is a winter dish. Full of strong flavour and extolled for its health benefits. We follow a classic risotto recipe. The recipe is basic, so you can build on it. 
Prep Time

25 Minutes

Cook Time

10 Minutes

Total Time

35 Minutes

Serves

4 People

Calories

500 kcal
Ingredients
1 kilogram of sliced beef

200 grams of seasoned caciocavallo cheese

200 grams of ham

150 grams of breadcrumbs

50 grams of raisins

50 grams pine nuts

24 bay leaves

1 white onion

1 red onion

Salt and pepper
Instructions
Flatten the beef slices with a mallet
Mix the breadcrumb, cheese, raisins and pine nuts
Finely chop the white onion and fry
Unite the ingredients and mix thoroughly in a bowl
Put one spoon of the mixture on a slice of beef
Roll the beef up
Pass the roll in oil and then in breadcrumbs
Skewer the rolls, alternating with a bay leave and and onion
Bake for about 6 minutes at 190 degrees
Notes
Involtini di
Pioppo
are
spectacular
.
Serve
two to three rolls per person. Instead of baking they can be fried in a pan. Or even
barbecued
.What sets the Pioppo rolls apart is the choice of
cheese
. Seasoned caciocavallo. As alternative use pecorino. Or Parmesan if you really have to.Many don't appreciate
raisins
. Probably because you used the wrong ones. The Sicilian
raisins
are small, black and slightly acidic. They contrast wonderfully in savory dishes.Some add diced cold cuts, such as ham. Outspoken cuts tend to take the upper hand. Serve the involtini di Pioppo with a robust wine. As
Finimondo
by Cantine Carlo
Pellegrino