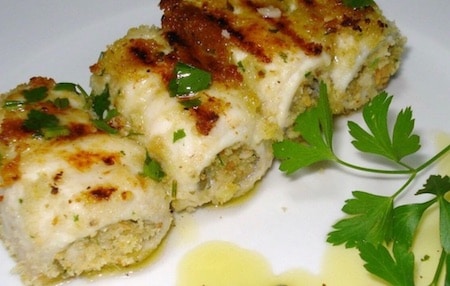 Involtini di pesce spada
Swordfish is not the tastiest dish and involtini di pesce spada is probably the best it gets. As a main dish. The subtle taste of the fish contrasts wonderfully with the savoury filling. 
Prep Time

20 Minutes

Cook Time

20 Minutes

Total Time

40 Minutes

Serves

4 People

Calories

400 kcal
Ingredients
1 kilogram of swordfish, or eight slices

200 grams of bread

100 grams grated cheese

150 grams of breadcrumbs

1 spoon of capers

50 grams pine nuts

30 grams of raisins

2 cloves of garlic

Oregano

Breadcrumb

1 lemon

Salt and pepper, olive oil
Instructions
Leave the raisin soaking in tepid water for 15 minutes
Toast the pine nuts in pan
Gather the bread, capers and garlic in a blender
Mix and add cheese, seasoning and oregano
Mix and add cheese, seasoning and oregano
Add the pine nuts, raisins and the juice of one lemon
Mix all ingredients thoroughly
Cut each slice in two, in a triangle
Put one spoon of the mixture on a slice of swordfish
Roll the involtino di pesce spada up
Pass the roll in oil and then in breadcrumbs
Skewer the rolls, separating them with a slice of onion
Bake for about 6 minutes at 190 degrees
Notes
Involtini di pesce spada are
spectacular
. And
easy
to prepare. Make sure the slices are
thin.
The filling does not need to cook.The cheese used in this recipe is
caciocavallo
.
Alternatives
are pecorino or other seasoned hard cheeses.Use
capers
conserved in salt. The brined ones tend to be too present, taste-wise. Do not forget to desalt them.
Orange
juice is a valid alternative for lemon juice. Or make it half half. If the
bread
is very dry, let it soak in milk, then squeeze.We drank a white
Etna
wine with these involtini di pescespada.
Etna Doc carricante
  by Travaglianti.