This is a perfect dish to bring along to work or school. It tends to be even tastier the day after preparation. The impetous character of vinegar smoothens, and tastes blend. If you have it with bread, start eating the salad and keep the bread aside. Mopping up the juice is nothing less than paradisiac. Insalata vastasa never lets you down.
Ingredients for four
Preparation
Ingredients for four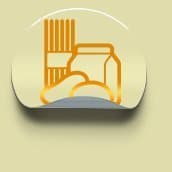 Boiled potatoes
Boiled green beans
Red onion
Green and black olives
Tomatoes
Vinegar (red wine vinegar preferably) 
Preparation
Free advice on the vastasa salad
Although it might not show, there is an equilibrium in this salad. As it often happens in the Italian and especially Sicilian kitchen, better leave something out rather than adding it. Allow me some examples of what shouldn't go in: cheese, corn, radicchio, lettuce. Rather not but allowed and cleared by Sicilian gourmets: carrots, celery and anchovies. So don't be 'vastasa' and stick to the recipe.
Yet another interesting advantage of this salad is that you can prepare it in advance. Even the day before. Which, in some way, makes it even more vastasa.