A happy way to peel hazelnuts? There are two methods. Immerse the nuts in boiling water for thirty seconds. A little pressure between thumb and index and the peel slips off easily.
The other way is by toasting the nuts. Why getting rid of the peel? It is slightly bitter and has a not so pleasant consistency. And tends to get stuck between your teeth.
If you don't mind, skip the peeling.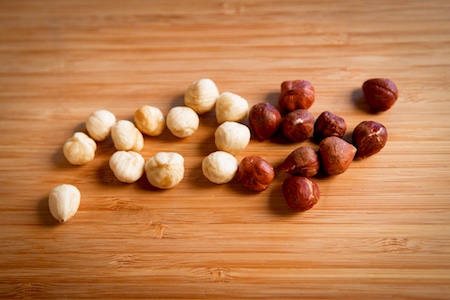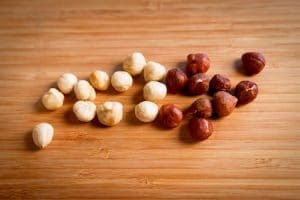 2. Noccioline abbrustolite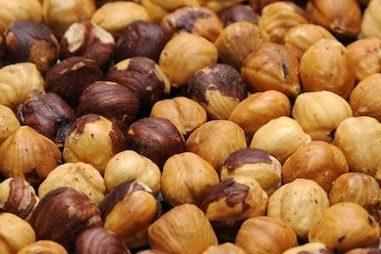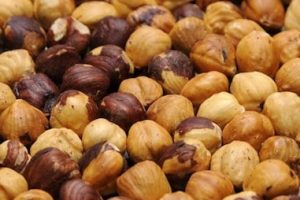 What a snack! Spread the hazelnuts on an over tray covered with parchment paper. One layer only. Let them sit in the oven for about 10 minutes at 185 degrees. 
By simply rubbing them, the peel comes off. Better wait till they cool down a bit.
Store the hazelnuts for a rainy day or a happy aperitif. Don't add salt. There is no need whatsoever.
Hazelnut pesto does not need summer basil to be happy. And hence our winter pesto. Once you cracked every hazelnut, it's all downhill. So when purchasing shelled nuts, the procedure is painfully simple. This pesto can be served with different kinds of pasta. Spaghetti though are most adapt.
There are variations on the theme. Walnuts or almonds instead of hazelnut. Parmesan instead of pecorino. Be creative, be happy.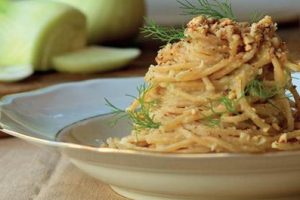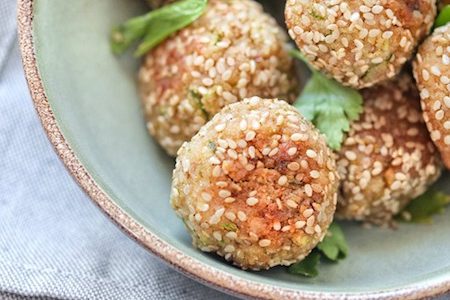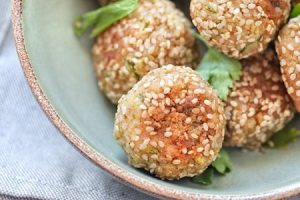 There is little that can't be made in a polpetta. As usual they take the name of the main ingredient. Hazelnuts. Mix them with minced meat, tuna or bread. The egg assures firmness. The best balls come fried. But the oven-version is more than acceptable, too.
Make enough and procure yourself a happy lunch. Or just nibble away during an aperitif. Subscribe to nasuki.guru for the recipe.
5. Hazelnut cream: happy, happier, happiest
Make your own wonderful spread. Much healthier than store-bought products.
The toasted nuts are blended with chocolate, milk and sugar. No ado with saturated fats and preservatives. 
Excellent on bread and wonderful as a dip for fruit. Keep it away from children. Happy children are alright. They do tend to finish it off straight away. And you too want to enjoy the cream, don't you?