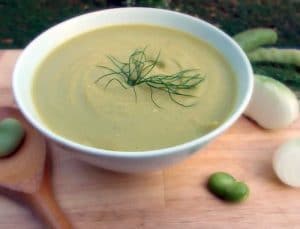 Green Macco
If there is a podium for broad bean preparations, green macco would receive gold. Fritella silver and freshly uncooked, straight from the pod, bronze.
Prep Time

20

Minutes

Cook Time

40

Minutes

Total Time

60

Minutes

Serves

4

People

Calories

200

kcal
Ingredients
500 grams of broad beans

1 big onion, a stalk of celery, a carrot

1 unpeeled clove of garlic

olive oil
Instructions
Immerse the podded beans in boiling water for a minute
Drain and cool them down in ice water
Squeeze the beans between your thumb and index finger
Fry finely chopped carrot, celery and unpeeled garlic.
Remove the garlic and add the beans
Cover with hot water and bring it to boil
Remove the foam with a skimmer
Stir in order to beans don't stick to the pot
Add the herbs, salt and olive oil
Notes
One kilo of broad beans correspond to approximately 350 grams of beans and 650 of seed pods. The latter, if fresh and reliable, can be turned in a
dish
. Traditionally people use
wild fennel
. Which is hard to get outside Sicily. You may add chopped fennel together with the carrot and celery. Or ground fresh roasted fennel seeds at the very end of the preparation.Green macco can be eaten as a side dish or starter. Or as seasoning for your pasta. Use short pasta and prepare at least double of what you'll serve. The remaining pasta can be fried the following day. Use your best olive
oil
for this dish.