Granita is a wonderful union of two liquids and sugar. Brought to freezing temperature and mixed.
It would be a semi-frozen dessert. Which is mighty reductive. Especially since it does not take the procedure into account. Depending on technique used, granita is coarse or smooth. More than taste, it is a matter of custom.
Try if for breakfast. With a brioche. Of course.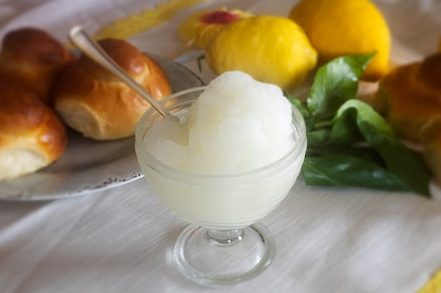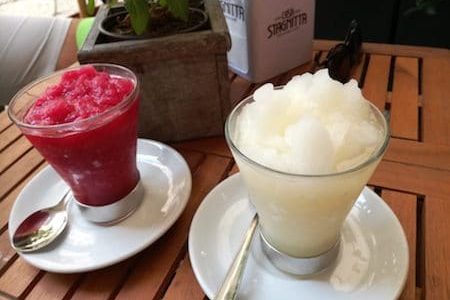 There is no discussion over water and sugar. The third ingredient varies. Classic granita is made with lemon. One part of lemon, two of sugar, three of water.
Easy peasy. Some add egg white. It does enhance the whiteness. But is by no means necessary. 
Alternatives are coffee, strawberry or almonds. As it goes for the classic variations. Many other are possible. Your imagination is the limit. 
Let's help stretching your imagination. Red wine, peach, watermelon, pineapple. Make sure your blend everything.
And get a liquid, fiberless mixture. Watermelon for example needs less water. 
The quantity of sugar depends on the sweetness of the third ingredient. Lemon needs sugar more than let's say mulberries.
In Sicily granita is served with a brioche. Not a ordinary one. It's dough is yellowish. And it has to have a pommel on top. 
When ordered in a bar, the granita comes together with a brioche. One accompanies the other.
Note that this is not a 'brioche with ice cream'. There ice cream is served inside the brioche.
Brioche and granita is an excellent summer breakfast. Whereas Italian breakfast is usual fast, this is slow. Take your time. Spoon your way through the ice, savor every crumb of brioche. There are few better ways to start a summer day.
One last word of advice. Sit outside and eat while watch people go by. The ultimate holiday experience.