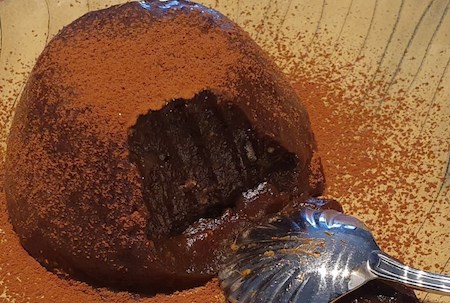 Caffè al cucchiaio
Caffè per tutti. After watermelon, tangerine and lemon, another jelly recipe. The adding of cinnamon is fundamental. Just make sure to sift the pieces out. 
The easiest way is to brew coffee with a moka pot. Capsule coffee does the trick. Drip coffee instead doesn't. 
Prep Time

15 Minutes

Cook Time

30 Minutes

Total Time

45 Minutes

Serves

4 People

Calories

100 kcal
Ingredients
250 ml of coffee (caffè espresso)

150 ml of water

80 grams of sugar

40 of corn starch

1 stick of cinnamon

bitter cocoa
Instructions
Brew yourself 250 ml of 'caffè espresso'
Add the broken cinnamon stick and sugar
Let the liquid cool down, then filter
Reheat the liquid over a slow fire
Just before boiling, pour some of the liquid in a cup
Add the starch and mix till smooth
Slowly add the starched coffee to the rest and stir
Let the liquid cool down a bit before pouring it in in moulds
Let it set for about three hours in the fridge. Dust with cacoa
Notes
Gelo di caffè is not a difficult recipe to execute though the result is monumental. Cream goes very well with this dessert. Taste and chromatic-wise. You could add some coffee liquid or
amaro. 
When doing so, cut down on the sugar.Gelo di caffè goes well with blancmange. Layered if you have time and patience. One next to the other is more than acceptable.