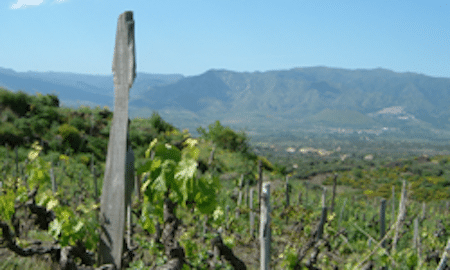 Frank Cornelissen?! That doesn't sound very Sicilian. How wrong can one be. Sicilian is by definition a mix. An intense exchange of DNA, ideas and culture is what constitutes Sicily. Since thousands of years
Coming from abroad he is often asked what brought him to Sicily. And his answer is ready. Producing wine! Blended in the landscape and culture makes Frank an uttermost Sicilian.
Frank Cornelissen arrived in Sicily in 2000. And his goal was straightforward. Producing wine. He carried a vast, previously built, knowledge along. Acquired over years dealing with wine. 
But producing wine was new. And the Northern slope of Mount Etna was were it'd happen.
'My dream is to produce wine in a place I love. And I am living that dream.'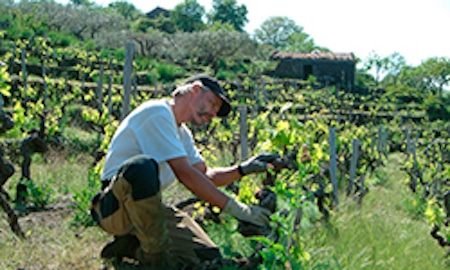 Frank says he doesn't want to make wine bur rather let the wine make itself. Understanding and reading Nature helps in feeling what to do in a patient and respectful way. And that is what Frank Cornelissen does. He interferes as little as possible.
The new vineyards are planted with ungrafted vines. There are also fruit and olive trees keeping them company. In harmony.
The result is frankly amazing. There isn't a single wooding cask in the cellar. As Frank quotes, wine should taste like wine, not wood. Most of the tanks are in fiberglass and some of the wine rests in amphora. Buried in lava stone. 
Frank Cornelissen is more than wine
Following the same sound reasoning, Frank does not believe in mono-cultures. Grapes grow along olive and fruit trees. As they used to. It makes harvesting more difficult. But keeping an equilibrium eventually pays off. 
And Frank Cornelissen's wine are the proof. Furthermore, the olives turn into a wonderful oil. Another passion still…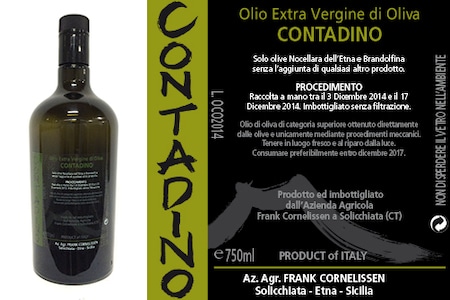 The vineyards lay on the Northern slope of Mount Etna. Neatly tucked away between the volcano and the Nebrodi mountains. This micro climate allows grapes to mature and express the richness of the soil. No wonder it the aerea features in his logo.
Is growing wine on an active volcano dangerous? Maybe. Frank Cornelissen answers as most locals do. If it happens, it happens. Mount Etna gives and takes.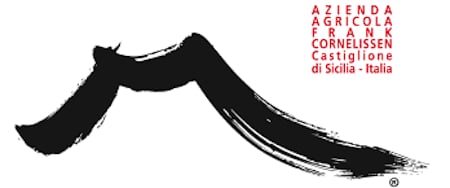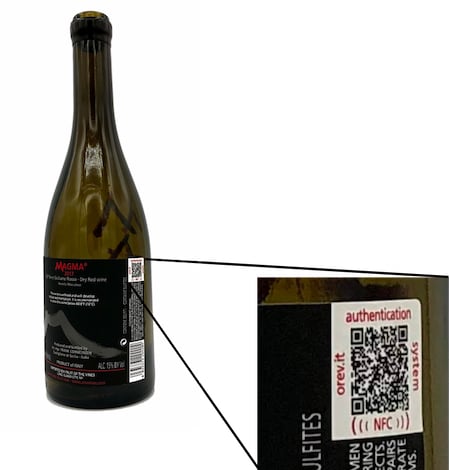 The Frank Cornelissen winery sells high quality wine only. And what you pay is directly proportional to what you get. This wine is the result of great respect for nature. Together with intense care and severe working methods. Only the best grapes are harvested. And the yielding is significantly lower than average. 
For the top wines, every grape cluster is tailored. And the result is what he rightly calls 'liquid rock'. And image that culminates in the grand vin Magma. A world wide acclaimed top wine.
These bottles bear a NFC chip, part form offering valuable information on the wine, it prevents counterfeiting.
Frank Cornelissen food choice
We asked Frank if he preferred some Sicilian dish. More than predictable, he chose dishes that express the island. Macco di fave with wild vegetables. Dried broad beans are emblematic for Sicily. After grapes that is. Pasta with sea urchins on the other hand is probably the best sea food dish ever.
Some more wise advice from Frank Cornelissen. 'When you come to Sicily, take your time. Savour Sicily, don't tick off the places to visit.'