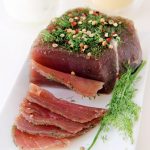 Elena's Marinated Tuna
Elena's marinated tuna recipe is unique. The simplicity and matter-of-factness make it an outstanding dish. As it often goes in the Italian -and even more in the Sicilian- cuisine. Not adding is more important than adding. The absolute star is the tuna. No side-shows, no antagonists. At least not when preparing the dish. Once ready, it can be served in countless ways. 
Prep Time

15 Minutes

Cook Time

1500 Minutes

Total Time

1515 Minutes

Serves

4 People

Calories

150 kcal
Ingredients
400 grams of tuna

140 grams of sea salt

60 grams of caster sugar

40 grams of dark unprocessed cane sugar

10 crushed red pepper grains
Instructions
Freeze the fillet for at least 48 hours
Let the tuna thaw completely and dry it thoroughly
Mix the caster and cane sugar, avoiding lumps
Rub the mixture in the fillet
Spread the remaining mixture on a try
Position your tuna fillet in the tray and cover
Let it rest in the fridge for 12 hours
Remove the liquid from the tray
Turn the fillet and let it rest for another 12 hours
Rinse the fillet with tap water
Dry Elena's marinated tuna with a kitchen towel
Slice the fillet just before serving
Notes
Elena's marinated tuna is a wonderful recipe. And the success lays in
details
. The cut of tuna will determine the outcome. Leaner cuts have a subtle taste, while fattier cuts will result more explicit. This is a personal choice. Elena advices to use the middle abdomen for a fillet. The salt used in this recipe is fine sea salt from
Mothia
. The reason? It is local salt. Instead of slicing the marinated tuna, you can turn it into a tartare. In that case Elena recommends to go easy on the seasoning. A drizzle of olive oil, some capers. What do you drink with such a refined dish?
Rosato del dottore
is an Etna wine made of Nerello Mascalese grapes. The minerality of the wine balances well with the saltiness of the dish. And yes, you may serve this with
mayonnaise
. A
seasoned
mayo that is.