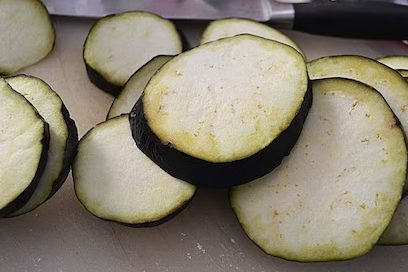 There is little or no surprise in an eggplant. Right under the beautiful purple skin there's but pale porous pulp. When raw it is bitter and unfit for consumption. But with a little help eggplant transforms into rare beauty.
Sprinkle some salt to get rid of the bitterness. The porosity allows the sucking up of added flavors. Very much like dressing a model, it is hard to make mistakes. 
This cheesy surprise is a sycophant among eggplant recipes. Only people on a diet may object and yet probably not even resist.
Much like a sandwich, pack it with cheese and ham. And a basil leave, to keep up appearance.
After a bath in flour, beaten eggs and bread crumb, fry. The oven-baked version is a valid alternative. Don't forget to drizzle some oil on top. In Italy this dish comes as 'melanzane in carrozza'.
Melanzane imbottite, a Sicilian surprise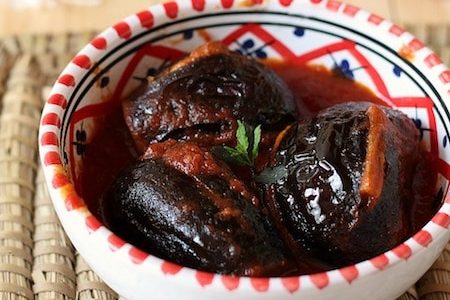 A Sicilian -culinary- surprise. This dish requires small eggplants. The size of a big egg. If you can't find them, only then, use normal ones.
The four lateral incisions are fundamental. As if hiding a treasure, fill them with cheese, basil and garlic. After a quick fry they are added -or drowned- in tomato sauce. As it goes in Sicily, two dishes in one. Sauce to season pasta, eggplant as main course. The smile come for free.
These deep fried balls –polpette– make an excellent starter. And are an absolute delight for an aperitif.
The crunchy outside contrasts wonderfully with the creamy inside. The addition of cheese and mint guarantee success and surprise.
Some people remove the peel when preparing polpette. You may do that with slightly older vegetables. Although the skin softens during the preparation.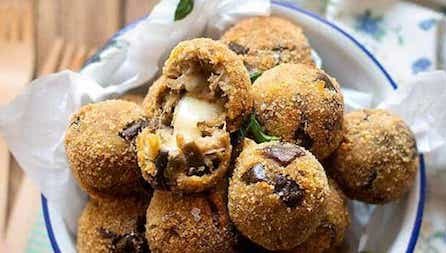 Again this shows the versatility of eggplant. They, much like bread, separate the various layers, the condiment. The famous 'parmigiana' is a good example. Tomato, mozzarella, you name it. The only limit to this 'tortino' is your imagination. 
The allocation is a thad more problematic. Is it a starter or a main dish? Too much for an aperitif?