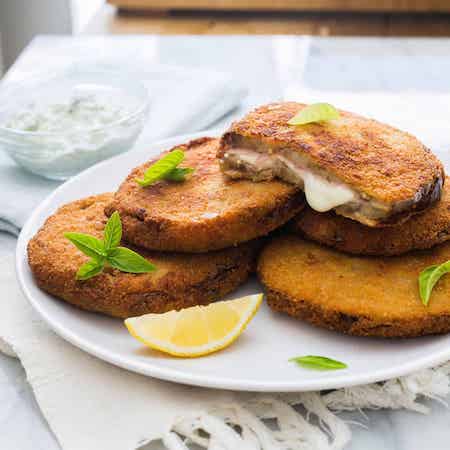 Melanzana in carrozza
In carrozza translates as in a carriage. Where the crust is the bodywork. This is an excellent starter but can be served as main dish as well. Instead of frying, eggplants in carrozza can be baked. What you gain in health, you lose in taste.
Prep Time

15

Minutes

Cook Time

10

Minutes

Total Time

25

Minutes

Serves

4

People

Calories

375

kcal
Ingredients
2 eggplants

200 grams of mozzarella

150 grams of ham

2 eggs

breadcrumbs

flour

frying oil

salt and pepper
Instructions
Slice the eggplant, about half a centimeter thick
Salt the slices and set apart for half an hour
Clean the slices with kitchen paper and put mozzarella and ham on top
Close another slice of eggplant
Pass the sandwich in flour
Pass them through beaten eggs, then in breadcrumbs
Fry the sandwich for about five minutes at 190 degrees
Let them sit for a couple of minutes, the time to drain the excessive oil
Notes
Eggplant in carrozza has many
variations
. Well, more than
variations
, they are concessions. The presence or not of ham is one. It is up to you. Our advice? When you use ham, use good ham.The cheese,
mozzarella
, is not as easy as it looks.
Fresh
mozzarella releases liquid and jeopardizes the crunchiness. So drain the cheese before using. Or use other cheese. Just make sure it
melts
nicely.Make sure not to overfill the eggplant. The creamy mixture must stay closed inside. A leaking carrozza is ugly to see and bad to eat.Instead of frying, you may
bake
the eggplant in carrozza. A third option is the mixed version. Fry the
eggplant
, fill and then bake.You can prepare the sandwiches in advance. The hold for up to three days. Fry them when needed. Serve with a crisp white wine. A Sicilian catarratto is ideal.