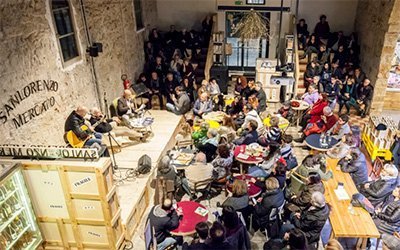 There are many reasons for eating out, laziness being the principal one. As the most denied one, too. Necessity is a good reason.  When eating at home is out of the question for geographical reasons.
Packed lunches still form a valid alternative. People eat them when and where they want. In case of prolonged absence of the home scene, things change. When traveling for example, the choice becomes inevitable. Curiosity is an other often heard reason to eat out. Having something you can't have at home is a temptation that does not exclude food.
Special skills, particular ingredients and vogue drive this wagon. Celebrations are traditionally held outdoors. Birthdays, degrees or retirement parties cause mayhem. Better leave that to professionals. Recently food has earned its corner in that global alcohol centered happening.
A probably arbitrary division of diners in two groups is whether they like surprises or not. Traditions versus novelty, local against foreign.
Those who want to eat without raising eyebrows tend to be a very judgmental bunch. Tradition does not allow fundamental variations, as if any at all. For them the difference between eating at home or out should be reduced to an absolute minimum.
This, as the matter of fact, might go back to the origin of the restaurant. A place to restore people, to reactivate them. In Two kind of places serve this food in Italy.  'Tavola calda' which translates as 'warm table' and is something similar to a snack bar. The other is the trattoria, where no nonsense, serving plain local food at a reasonable price.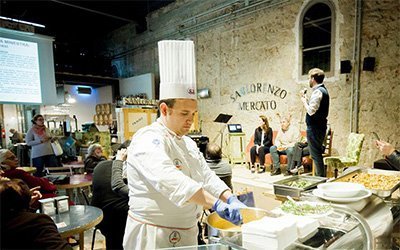 Being bewildered, baffled, bemused and amazed has become a sought after experience and craftly offered by chefs.
Unusual combinations, rare ingredients and astronomical bills characterize this trend.
Guides of all kinds help people through the gastronomical jungle.   Alienation for some, venturesome for others. Going to avant-garde places gives you the status of a connoisseur. Someone who can judge and knows his or here onions.
Having deep roots in most societies, street food has undergone a metamorphosis: accredited with credibility, it receives universal honors.
The same food that sold in dire conditions and destined to strong stomachs has become a reason for pilgrimage. The city of Palermo took advantage of the situation and now exports its delicacies all around the world.
Arancine (fried rice balls) and potato-croquette-sandwiches, just to name two have travelled far.