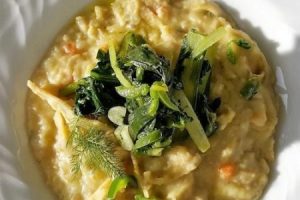 Dry broad bean macco
All you need are dry beans. This is an excellent dish for beginners. Easy to prepare and little that can go wrong. The ingredients are not all that expensive, so even damage is budget friendly.
Prep Time

15 Minutes

Cook Time

45 Minutes

Total Time

60 Minutes

Serves

4 People

Calories

150 kcal
Ingredients
400 grams of decorticated beans

1 big onion, a stalk of celery, a carrot

An unpeeled clove of garlic

olive oil
Instructions
Soak the beans in plain water for 3 hours
Fry finely chopped carrot, celery and unpeeled garlic.
Remove the garlic and add the beans and cover with water (two fingers)
Remove the foam with a skimmer
Stir now and then so the beans do not stick to the pot
When the beans fall apart, add salt and oil
Notes
Dry broad bean puree has many possible consistencies. They may vary from a soup like dish to a firm, mashed potato like texture. There is no wrong or right here, it is up to you. Store your dry broad beans in a container and make sure you never run out. They are a welcome surprise in times of despair. 
Macco
goes very well with bitter vegetables such as chicory or endive. Remarkable well paired with
Belgian endive
.Serve your macco straight after cooking. The starch tends to set when cooling down. 
Legumes
are an excellent source of protein and fiber. Health on a plate, especially when topped of with good olive oil.