Cultural heritage is never easy to handle. Should it be preserved as such? Or rather updated and popularized? Pasta with sardines is so typical it hurts. The main ingredient is wild fennel, contrary to what one may expect by the title. The sardines are not even the second most important ingredient. How could a dish be a Sicilian classic without pine nuts and raisins? Breadcrumb comes next in importance. There is even a version without sardines. Pasta with sardines still at the sea or pasta alla Milanese (Milano has no sea, you see?) Saffron not only colors the dish yellowish, it adds to the flavor. The pasta to use is 'bucatini', the hollow spaghetti. No cheese, please. 
2. Pasta with cauliflower - winter dish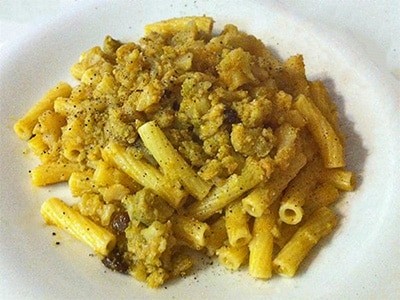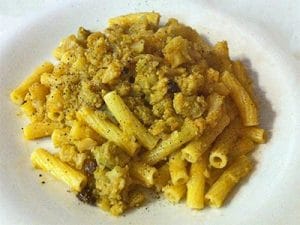 One of the many ways to prepare cauliflower. The 'broccolo' season lasts around six months, and one might get tired of them. Not of this preparation though. The main ingredient is the cauliflower. Which in Palermo are called 'broccoli'. Indispensable are salted sardines – anchovy- saffron, pine nuts and  raisins. It requires short hollow pasta (sedanini) and toasted breadcrumbs. The oven-baked version is a masterpiece. The Sicilian cauliflower is green – sometimes red – but tastes no different from the ubiquitous white ones.
.
3.  Tenerumi : summer dish
Summer on a plate. Although usually eaten at home, some restaurants do serve it. Be brave and try it, even -or especially- on a torrid day. Very Sicilian and surprisingly refreshing. There are numerous variations, all claiming to be the original. The soup version is simply astonishing. A life changer. Amen.
4. Pasta al forno: party dish
When mentioned in Sicily, people spontaneous cheer. This is not a dish, it is a treat, a feast. Minced meat and tomato sauce are the basic ingredients. After that things become blurry. Aubergine, hard boiled eggs, peas or cold cuts are possible ingredients. Prepared in great quantities, people hope for leftovers. And every knows it tastes better when reheated. It completes a day at the beach or a trip to the countryside.
Probably Sicily most famous pasta. Tomato sauce and fried aubergines. Dedicated, not related to Bellini's opera. There is no ricotta salata involved in that tragedy. Straightforward, easy, all you want, not a dramatic heroine.