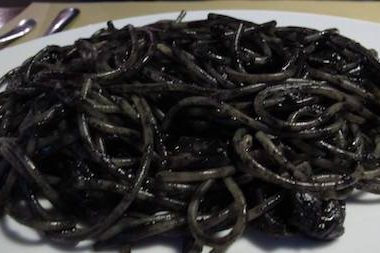 Black pasta
Black pasta, coloured with cuttlefish ink. It is a joy to eat. Tasty and funny. Beware of the dyed pasta some shops shell. It may bear the same name but couldn't be more different. 
This is not an easy dish to prepare. Mainly because fresh cuttlefish with ink is hard to obtain. And even harder to clean.
Prep Time

20 Minutes

Cook Time

40 Minutes

Total Time

60 Minutes

Serves

4 People

Calories

350 kcal
Ingredients
400 grams of pasta (spaghetti)

2 cuttlefish

1 clove of garlic, one onion

100 grams of tomato concentrate

1 glass of white wine

1 glass of tomato sauce

parsley Evo, salt and pepper
Instructions
Clean the cuttlefish and remove the ink bags
Cut the cut cuttlefish up
Fry the diced onion and garlic in a pan with abundant oil
Add the cuttlefish and stir for about five minutes
Add the wine and wait a couple of minutes before adding the tomato
Let the sauce simmer for about 15 minutes, stirring now and then
Add the ink and strii until obtaining a uniform colour
Add the fresh boiled -al dente- spaghetti to the sauce
Mix and serve with chopped parsley
Notes
Black pasta, with cuttlefish ink is a Sicilian classic. It is not a daily dish though. Black pasta is festive, it is particular.The
cleaning
part is truly difficult. Therefore leave it to your local
fishmonger
to do so. Make sure the ink-bags don't burst. The fact the pasta is pitch black opens interesting features. Black contrasts wonderfully with other colours. A slice of tomato, some green parsley, even some white
ricotta
. It is easy to serve a chromatic masterpiece.  Supply the eaters with a bib. And better brush your teeth afterwards.