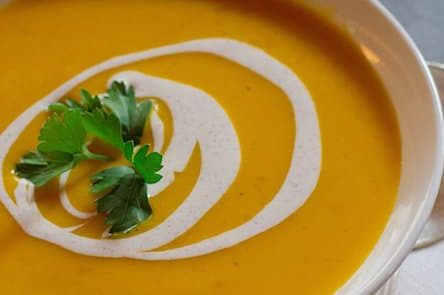 Creamy Pumpkin Soup
This soup is rather substantial. And can therefore substitute a whole meal, specially when adding bread. We propose the slightly spice version, though one can do without. With less liquid it can easily become a condiment. Or even a sauce. Ideal to season your tortellini. If all your guests appreciate spicy food, you may add chili pasta before serving. It is though gentile to serve the paste apart.
Prep Time

10 Minutes

Cook Time

50 Minutes

Total Time

60 Minutes

Serves

4 People

Calories

350 kcal
Ingredients
500 grams of pumpkin

750 ml of milk

750 of chicken stock

1 big onion

nutmeg, salt and pepper

chili paste
Instructions
Dice the pumpkin and onion
Sauté in a pan till tender with olive oil
Add the milk and broth
Let the soup simmer for about forty-five minutes
Use a handheld mixer to smoothen the soup into cream
Serve with chili paste to whom desire
Notes
Spicy
pumpkin
soup is surprising. It deviates from the canonic taste, in a smooth and pleasant way. In middle eastern countries people add other spices. Coriander, cumin and spices alike. You may very well do without.Make sure to use whole milk. That guarantees creaminess and robustness. Do instead not use cream. Contrary to whole milk it covers the subtle taste of pumpin.Most supermarkets sell chili paste. The North African harissa or Eastern
Chiu Chow.
Or blend your own chili peppers with some sugar, vinegar and salt.This spicy soup is excellent as a first dish, introducing other courses. But with some bread aside it can become a whole meal. When the soup is a little thicker it may season tortellini or ravioli. It works wonderfully well with ricotta filled pasta.This substantial dish asks for a substantial wine. May we recommend
Rosso Baglio del Cristo di Campobello
2018?