Costruire Salute: a storm of protest broke out when the Regional Health Department launched a new campaign. 'How much can a woman drink?' Referring to the dose of alcohol related to health. Nothing wrong with spreading the 'alcohol awareness' idea. Nothing wrong with addressing women rather than men. Well, something went wrong anyway.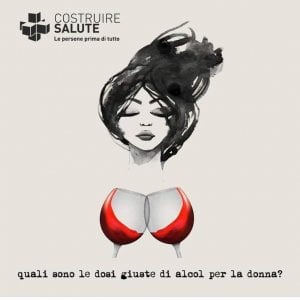 Doctor Freud strikes again
The young woman in the manifest, drawn with Chinese ink, two glasses of red wine underneath. Follow by the pay off: 'what is the right dose of alcohol for women?'. Happens that the two wine glasses do remind breasts. Doctor Freud mentioned it a while ago: people are driven by sexuality. Always. No problem if you too didn't see wine glasses right away. But do not forget that women are more (much) than that!
Turns out that the two-glasses-for-women has no scientific fundaments. Pregnant women for example, should not drink at all. And science tends -where they are allowed – to advice against the use of alcohol in general. For sure not stating two glasses of wine are indicated for a good and healthy life. Not a mere detail when the campaign comes from the Health Department.
Modern times, same old story
The campaign ended before it really started. Labeled despicable, unworthy, defiling and unprofessional, there was no time to launch it properly. With all the possible flaws, there are a couple of arguments in favor of the poster. Maybe there was a touch of irony involved, and not caught by the quibblers. Would  a pedantic poster have been better? With an average woman. A woman nobody identified with? But at least not offensive. Maybe the idea was that of 'meme', the youngster's way of addressing issues. And who knows, maybe it was… mere publicity.