Concetto Rubbera is a cook, a culinary volcano. We had our interview in Palermo. Far away from his beloved Syracuse, far away from a kitchen. And yet, this man managed to transmit flavors and tastes, by mere talking. Communicating it turned out, is one of his other fine skills.
Just for the record: he brought his white cooking jacket along. Because, he said, you never know. A man to our heart!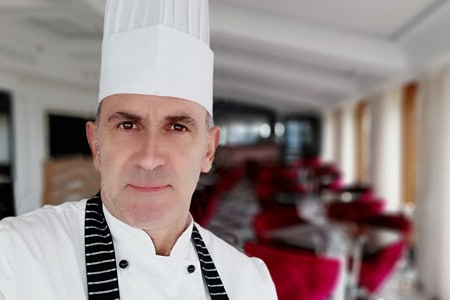 Concetto, as a chef, is a late bloomer. His culinary career started when he was in his mid forties. Till then he worked as an accountant in the family business. The passion for cooking and food though dates back to his childhood. He spent much of his youth in the kitchen with granny. She daily fed twelve hungry mouths. And managed to make a feast out of every meal. An indelible and priceless experience.
More than stepping into the culinary world, Concetto leaped. He trained with chefs such a Pietro D'Agostino, Gianfranco Vissani – unanimously regarded as one of the Italian  cooking's Fathers – and Maurizio Urso. 
He also worked in Sao Paulo, Brazil. Preparing Sicilian food in l'Accademia della Cucina. Closer by he worked for Ortea Palace Hotel in Syracuse.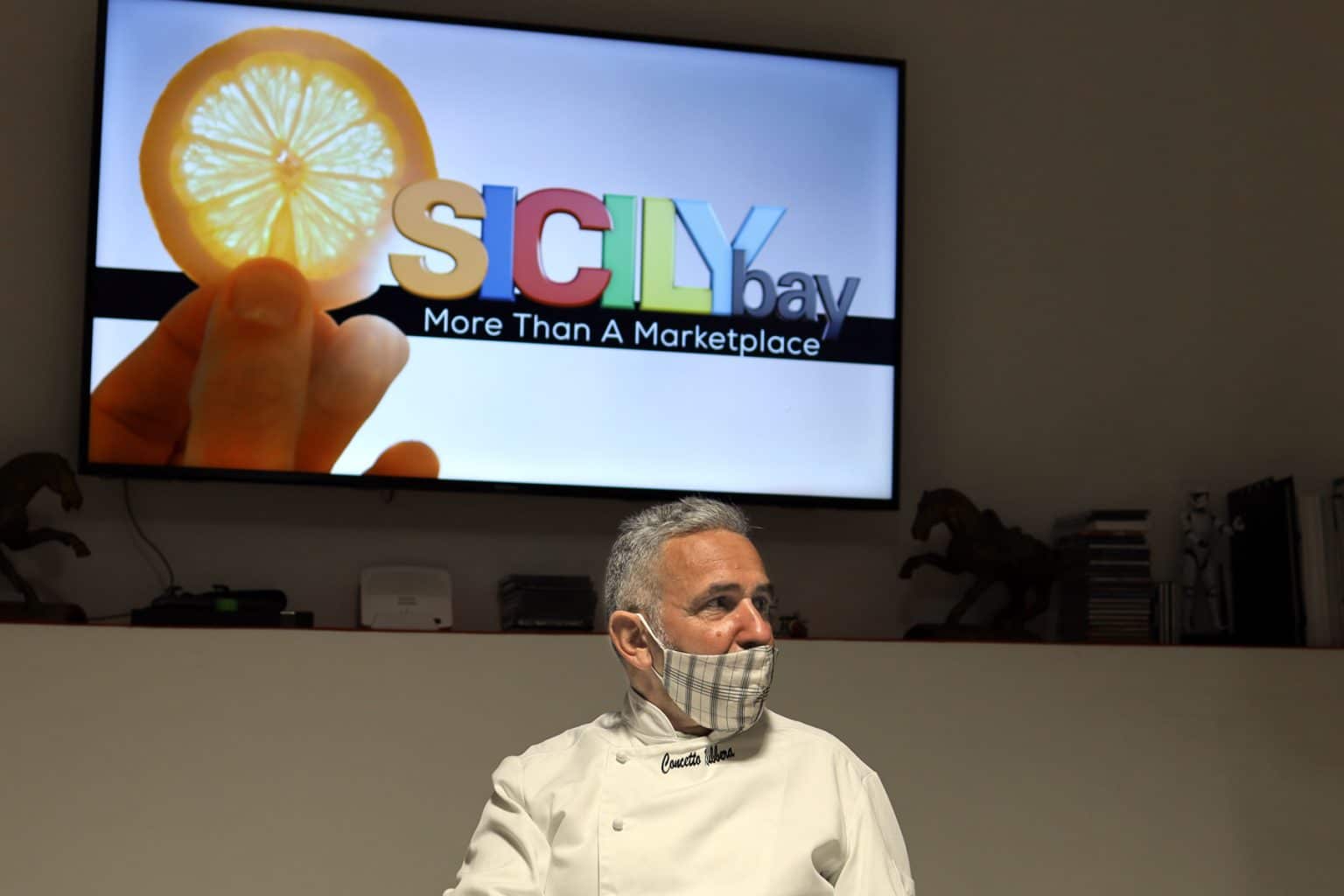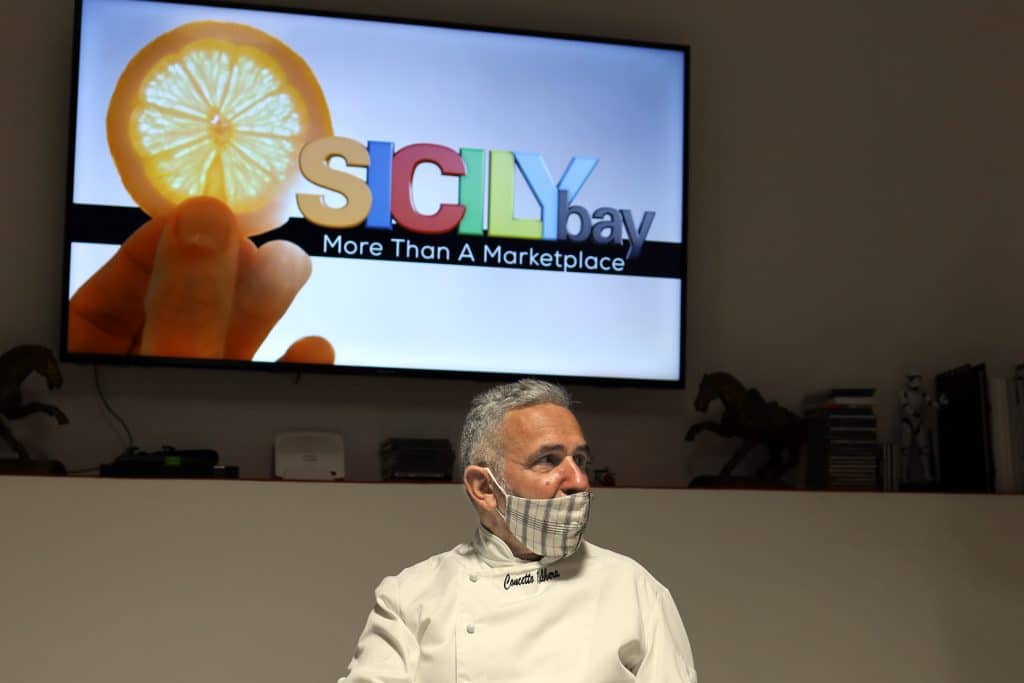 Concetto learned a lot from his restaurant experience. Skills and organization first of all. But he suffered a bit the lack of freedom. Working in a professional kitchen is very demanding: hard work, long hours and little space for improvisation. 
So he opted for a different, self invented career. Indeed, he defines himself as a messenger of culinary emotions more than a chef.
He developed the idea of private cooking. Offering people a restaurant experience, sitting down at their own home.  Unhurriedly. Again, more then merely preparing food Concetto transmits emotions. That is why he 'sequesters' their cellphones. So they can actually concentrate on talking with each other, about food and pleasures coming from it.
This way of working allows him to undertake new projects. A project dear to Concetto involves foreign tourists. Together they go grocery shopping to the market. And then they prepare a typical lunch. An experience that lingers on for years. He still receives messages from people he cooked with years ago. They still remember the taste of what they prepared together. Of what they ate together.
Again, the core is transmitting emotions. Being together, conviviality is a central concept. Specially when it comes to food.
Recently Concetto Rubbera dedicated time to Sicilybay. A new platform offering top Sicilian products. Sicily produces the most wonderful ingredients. And he will furnish some recipes, telling how to combine the right ingredients in the right way. Very much in line to what he often does.
A great advantage of the Sicilian cuisine is simplicity he says. The art of making something big with little. Sometimes also with less.
As his granny used to do.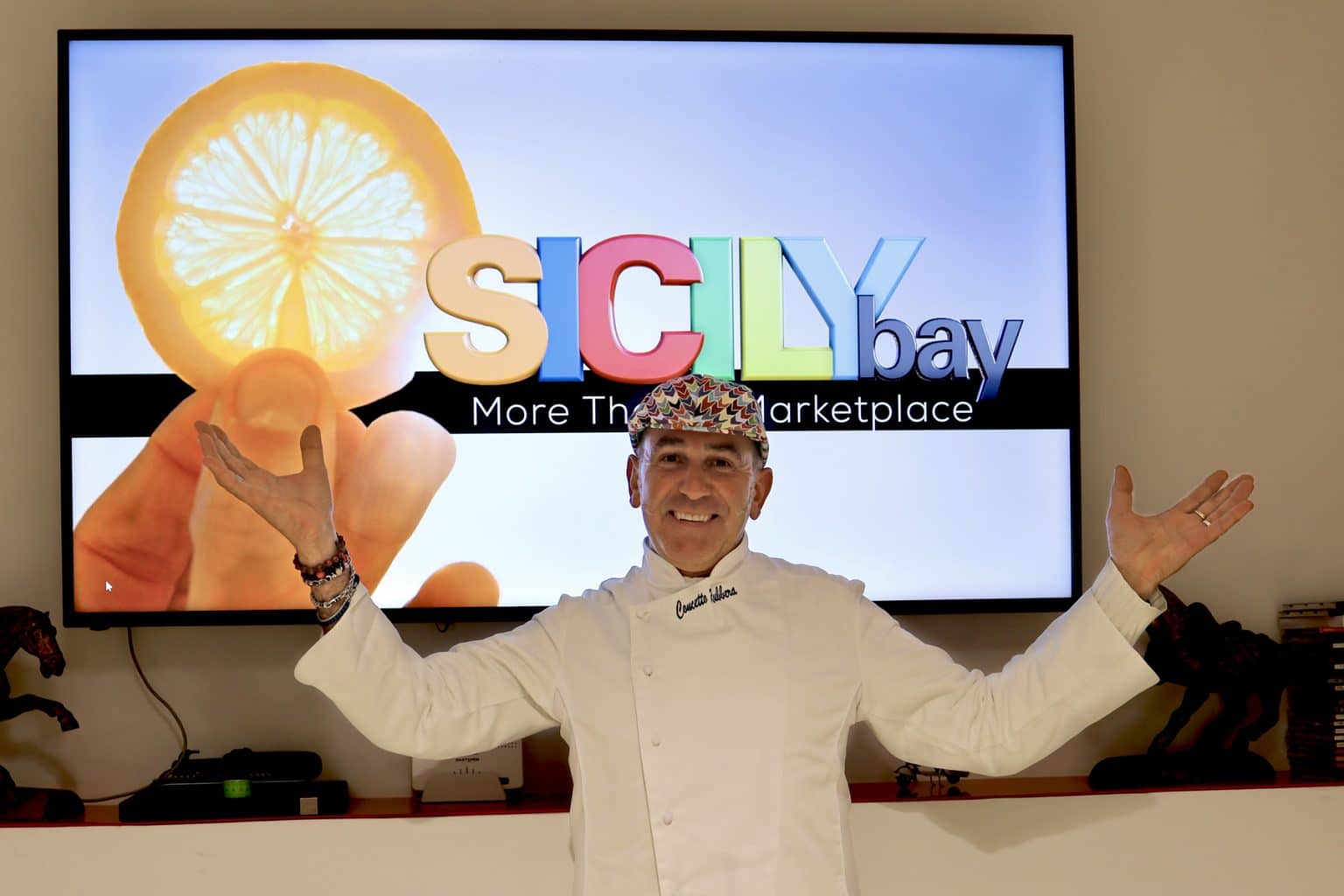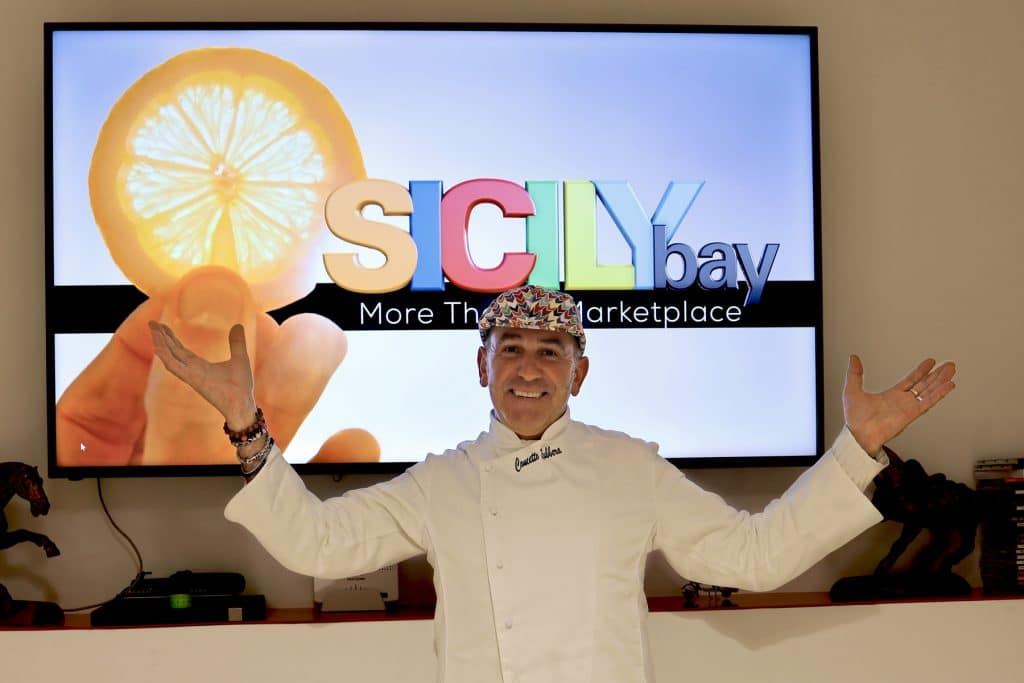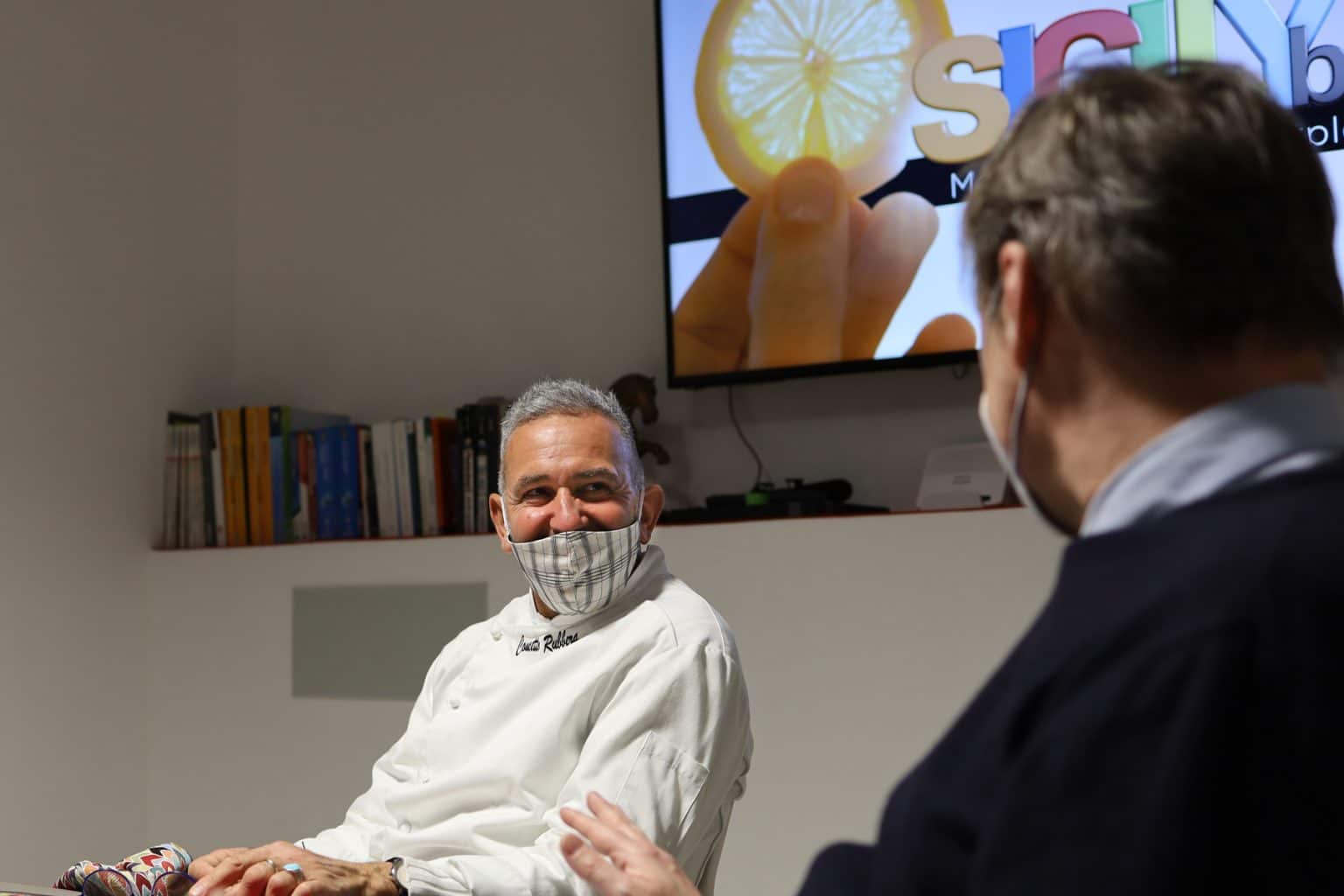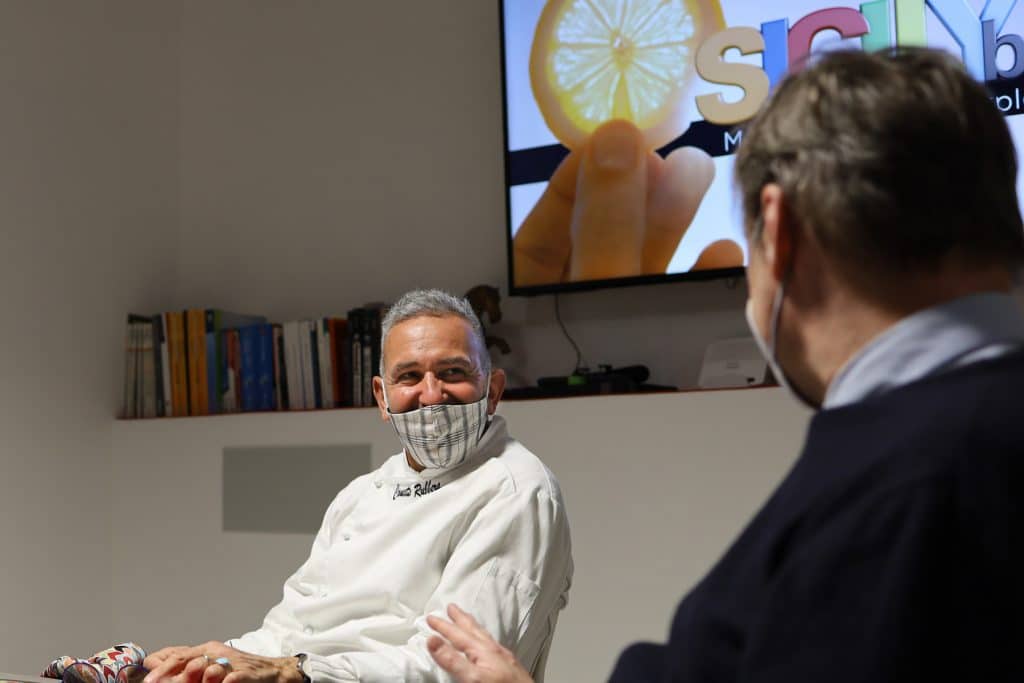 There is a secret treasure at Concetto's place. A wooden box full of recipes. After trying out and improving, these recipes go in the box. And some day they'll get out. He still is not sure how. Nor when. But we are looking forward to whatever it turns out to be. 
And since cooking is hard work, he plans his future carefully. Instead of bustling around in the kitchen, he will dedicate his time to teaching. Not in the strict term of the word. Transmitting knowledge more than anything else. After all, that is what learning, real learning is all about. 
Primi piatti, pasta dishes. Concetto is a pasta-man. And why? There are unlimited possibilities. He recounts that even just before plating he sometimes changes a recipe. Adding wild fennel instead of parsley for example. Pasta allows you do these things. And pasta is also the corner stone of Sicilian cooking. A day without pasta is a wasted day.
Seasonability is another essential aspect for the Sicilian cuisine. Every season has its ingredients. Something to look forward to. The best recipes come forth with fresh, seasonable ingredients.
Subscribe to nasuki.guru to receive the Concetto's recipe!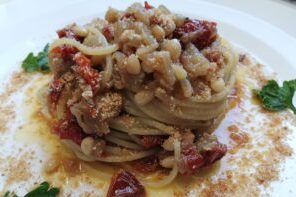 Concetto Rubbera and Nasuki!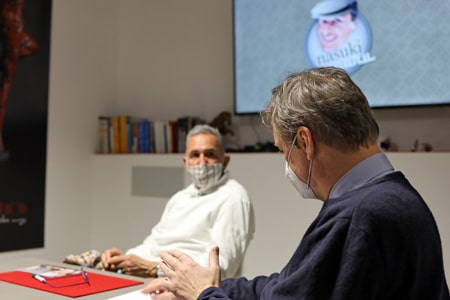 Concetto repeated this many times during my interview to him: transmitting emotions. Starting with how his granny transmitted the passion for cooking. And on how he wishes to do the same. Sicilians he says, are extremely communicative. They can make a blind man see and a deaf one hear.
Due the taste is that sense able of reawakening the others.