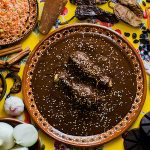 Chicken in Chocolate sauce
Chicken in chocolate sauce is related to the Mexican Mole de Pollo, but differs. Some ingredients are different. The richness is what remains, standing tall.
Not easiest dish to prepare, but well worth the effort.
Prep Time

50 Minutes

Cook Time

40 Minutes

Total Time

90 Minutes

Serves

4 People

Calories

235 kcal
Ingredients
8 chicken tighs

1 bar of Modica chocolate or 40 grams of cocoa

2 onions

1 cup of tomato juice

3 cloves of garlic

4 chili peppers

40 grams of almonds

1 cup of red wine

1 cup of chicken broth

40 grams of sesame seeds

60 grams of flour

1 stick of cinnamon
Instructions
Boil the chicken for 10 minutes
Drain and dry the chicken
Mix the flour with cinnamon and pass the chicken though
Sear the chicken in a hot pan, then set aside
Fry the garlic, the diced onion and chili peppers in the same pan
Add the grated chocolate and crushed almonds and stir
Add the wine followed by broth and tomato sauce
Let is simmer for about 20 minutes before adding the chickenen
Cover the pan and leave it on a small fire for about 10 minutes
Transfer all to an oven tray and sprinkle with sesame seeds
Bake for 20 minutes at 185 degrees C
Notes
Chicken in chocolate sauce is a
complex
dish. In taste as well as in structure. The variations are countless. And much depends on the ingredients used. We chose local Sicilian products. The wine for example is a red Etna wine. Whereas all the other ingredients were purchased on the
Ballarò
market.Among the classic variations there is the choice of chicken. Use breast or even wings if you please. Turkey or other poultry  do the trick as well or sometimes even better.We advice to pair the dish with the same wine in the sauce.
Pietrarizzo
, an Etna Doc wine by Tornatore