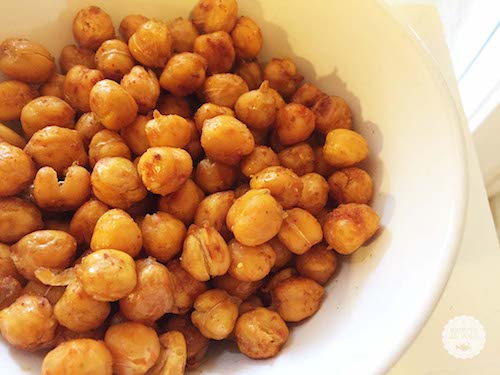 Ceci - chickpeas
Toasted chickpeas, ceci abbrustoliti, are a popular snack in Southern Italy. In Sicily this is known as 'calia'. No procession, no festivity can go without. The basic recipe requires no more than chickpeas and salt. But a base can be built upon.
Prep Time

5 Minutes

Cook Time

25 Minutes

Total Time

30 Minutes

Serves

4 People

Calories

200 kcal
Ingredients
400 grams of chickpeas, ceci

3 spoons of olive oil

2 spoons of minced rosemary

1 spoon of baking soda

salt
Instructions
Let your ceci - chickpeas- soak overnight in plenty water and baking sode
Rinse the chickpeas and let them drain
Transfer the chickpeas in a bown
Add the olive oil, salt and rosemary
Mix thoroughly and transfer the ceci to an oven tray
Preheat the oven to 220 degrees
Bake the chickpeas for about 25 minutes, till they are crunchy
Regularly stir in order they toast equally
Serve them hot
Notes
Ceci abbrustoliti are classic snack. The rudimentary
recipe
calls for nothing but oil and salt. Nothing wrong with that. But adding herbs or aromas may improve the outcome. Whether this is breaking with tradition is a trifle overstated. The results are spectacular and hence legitimated.As stated above,
rosemary
is a winner. But so is finely chopped lemon zest. Very interesting is the adding of paprika powder. And cayenne pepper. May we suggest black pepper and lemon. Highly addictive indeed.The recipe calls for dried chickpeas. Can you use a can? Sure. Make sure to rinse the ceci and double the amount. Canned chickpeas are usually heavily salted. So do not add any while toasting.Ceci abbrustoliti are perfect to go along an aperitif.