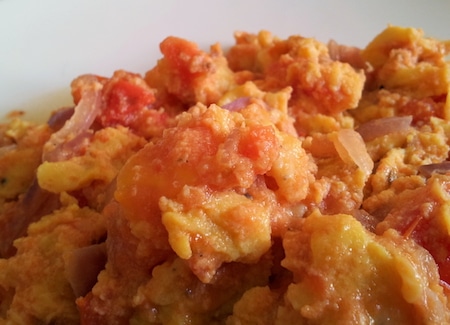 Carmela and her hot eggs
Nobody knows where the dish really originated. Carmela claims she received the recipe in a dream she had. An angel made her repeat the procedure and ingredients so many times, there was no need in writing it down. Just as the angel foretold her. 
We ask her gently to share her recipe. But their was mischief in her voice. Carmela approved the recipe. And what more can we ask for.
Prep Time

20 Minutes

Cook Time

20 Minutes

Total Time

40 Minutes

Serves

4 People

Calories

300 kcal
Ingredients
8 eggs

4 ripe tomatoes

1 onion

3 chili peppers

EVO

Salt and a pinch of sugar
Instructions
Peel and pip the tomatoes
Sauté the diced onion in olive oil
Add the chili peppers, shredded
In goes the tomato and leave them alone for a couple of minutes
Add the eggs and scramble
Season with salt and a pinch of sugar
Serve piping hot
Notes
Carmela's spicy eggs are stupendous. And even our own version is delicious. Because she's very sympathetic toward
Nasuki.guru
, she allowsìed to unveil some secrets.The pinch of
sugar
may seem insignificant yet makes a big difference. She sustains it takes the edge of the sharpness chili peppers leave. We can't but agree.Carmela advices to use red onions. Both for taste as
chromatic
reasons. Letting the
tomatoes
color brown is fundamental. Brown, not black. This enhances the
umami
effect Salt is added at the end. Served for breakfast it guarantees instant oblivion. And the will to confront a new day.If you happen to stumble on a wonderful adding of your own, please let us know. Here's a short list of what does not work. Cumin, yogurt, vinegar, breadcrumbs and garlic.