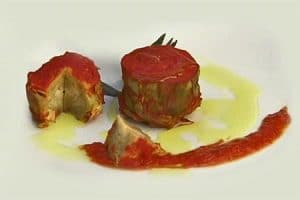 Carciofo con tappo
Tappo (la tappa in Sicilian) translates a cover, a lid, a cap. Which is important since this closes the juices and flavors inside. It is not an easy recipe, requiring some skill. Let that though be a challenge rather than a warning.
Prep Time

30

Minutes

Cook Time

45

Minutes

Total Time

75

Minutes

Serves

4

People

Calories

250

kcal
Ingredients
10 artichokes

1 liter of tomato sauce

1 lemon

100 grams of grated cheese (pecorino)

3 eggs

4 anchovy fillets

2 cloves of garlic

50 grams of breadcrumb

parsley
Instructions
Cut the top off, at about 2/3 of the artichoke
Remove the outer leaves and inner spines
Bash the cleaned artichoke against a cutting board
Squeeze two lemon in water and add the artichiokes
Cut the anchovies and garlic in small pieces
Mix with the cheese, breadcrumb and two eggs
Fill the artichokes with this mixture
Beat the remaining egg up and pour, parsimonious, on top of the artichoke
Heat olive oil in a pan and fry the artichokes, head down
Be swift! Let the egg mixture set
Transfer the artichokes in tomato sauce and let them boil for 45 minutes
Notes
The preparation for carciofi con tappo is long and rather
difficult
. But consider you are preparing two dishes, not just one. The tomato sauce is used to season the pasta, the
artichokes
come as 'second' course. Some add pepper or chili pepper. Some use parmesan cheese or other cheese still. Note that 10 artichokes cannot be divided in 4. So after eating two, it is nice to share half with someone.