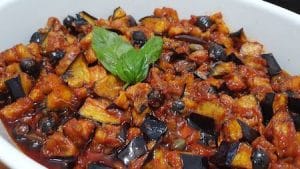 Caponata
Few dishes are emblematic as caponata. And yet, there are as many recipes as there are cooks. If not more. Here is a basic procedure.
Prep Time

120 Minutes

Cook Time

45 Minutes

Total Time

120 Minutes

Serves

4 People

Calories

400 kcal
Ingredients
2 aubergines

2 onions

300 g of celery

150 g of green olives (remove the stones)

150 g of tomato paste

2 spoons of capers

70 g of sugar

half a cup of wine vinegar

oil for frying
Instructions
Dice the aubergine (1.5X1.5 cm), salt them and let rest for 45 minutes
Dry the aubergine dice and fry at 170 for 5 minutes
Fry the sliced onion in a pot with oil
Add the diced celery and the capers
Stir fry for 4 to 5 minutes, than add the olives, tomato paste and fried aubergine
Mix thoroughly and let it simmer for 10 minutes (covered with a lid)
Add the sugar and vinegar
Leave it simmering for another 10 minutes
Notes
Caponata
is a personal dish. With plenty of variables that may change the outcome. That is why trying it in Sicily is recommended. If only to have an idea of what it should taste like.Caponata is a
summer
recipe. At least, it contains summer vegetables. In eastern Sicily
bell peppers
are added to caponata.You may use cane
sugar
instead of plain white sugar. Or even honey. And some recipes add two spoons of bitter
cacao
. Artichokes may substitute the
aubergine
. The
sword fish
version is very popular too. Bake your diced fish apart. And add it where the aubergines would go in.Make sure all ingredients have the same size. Caponata is served
cold
. And preferably the day after preparing. It is an excellent starter. And a probably even better choice? On bread for an aperitivo with friends.