The previsions regarding tourism in Sicily are good, very good. International magazines and news sites steadily dedicate more and more attention to the Island. One of the main reason is that Sicily is no longer considered dangerous. It has never been dangerous for tourists but bad press gave that impression. Now it is, once again, the place to be. Working in the sector is much like shooting fish in a barrel. Although the steep increase in visitors requires professional guidance to avoid implosion. That is where the BTE kicks in.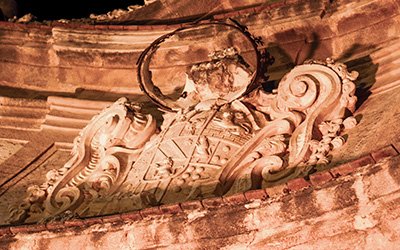 The 2019 tourism fair, BTE, took place in Bagheria. Hardly any location could be more adept. Places like these are exactly what the new tourists are looking for. A  a concentration of beauty, in the context of a very normal city. This is a place where surprise and wonder won against negativity. And bringing the BTE there just shows that they finally believe in their own potential. Tourists rediscover and appreciate Bagheria because it is so very Sicilian. Contrast at its best. A smart move by Confesercenti Sicilia indeed!
This is probably the most famous of all villas in the neighborhood. Also known as 'Villa of Monsters', because of the monstrous sculptures in the garden.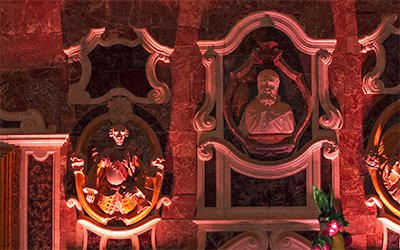 Every step on the majestic double staircase brings you a bit closer to heaven. Such an entry inevitably recalls the charm of days gone by.
In the vestibule an artist (Michele Ducato), apparently imperturbable, sat painting  typical Sicilian designs. Next door, in the famous mirror room mayor Filippo Tripoli and tourism council Brigitta Alaimo welcomed the gathered invitees in the amazing main room.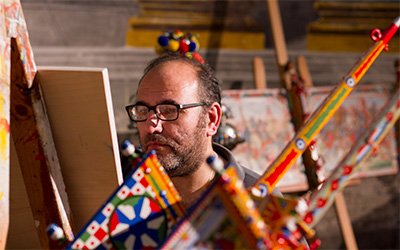 They, it must be said, hosted wonderfully and kept their speeches short and to the point. 
Bagheria has a long and strong culinary tradition. Although clearly Sicilian, it does stand out. The organizers of the BTE made a smart move and gathered the best chefs. The presence of chef Tony Lo Coco set the expectations very high indeed. Arranged behind their tables, these chefs and their  aids composed creations while people  eagerly witnessed the craftsmanship. We gladly performed our duty and tried all proposed dishes.
Giovanni Galioto – Osteria Can Caus. Anchovies balls.
Maurizio Panzica – Ristorante Ricci&Capricci. Black Venus rice with squid, sea urchins and burrata.
Mauro Aiello – RistoMacelleria-Gastronomia Fratelli Aiello meat & cookers. Tartar of smoked Sicilian 'Cinisara' beef, anchovy dripping,  verdello lemon, provola cheese from the Madonia mountains.
Salvo Lipari – . Red mullet sandwich filled with tomato, basil, anchovy and buffalo mozzarella.
Saverio Greco –  Ristorante Vintireci. Raviolo perfumed with verdello lemon, filled with anchovy, ricotta cream on aubergine, cherry tomatoes and breadcrumb.
Claudio Oliveri – Oliveri1964. Seared shrimp on broad bean pure, gamberi scottati su macco di fave, crunchy dried food and anchovy dripping. 
Ivano Molinaro Pastry Concept. Ricotta cream on an almond wafer with verdello lemon.
Tony Lo Coco – I Pupi. Entirely verdello lemon: a lemon dessert in various consistencies.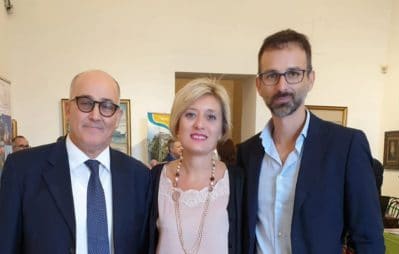 The swiftness in preparation charmed everybody. What is usually done in the kitchen was now executed out in the open. The cure and care, love and dedication left no one untouched. We tried hard to make a ranking but failed miserably.
The Cusumano wine matched perfectly, while the beer – Bruno Ribadi – was more than pleasant. Yet another Sicilian surprise.
What about tourism in Sicily? What about BTE?
Well, it is not hard to see that things are changing. Tourism is no longer seen as something that just happens overnight. It is taken seriously, understood and appreciated. The idea, the presumption, that tourist are a dumb mass has been left behind. It seems now tourism operators listen to what tourists want. And  the will to adapt to novelty and innovation was perfectly embodied in this dinner. If you can enchant a mainly Sicilian public, the rest will follow. With Confesercenti working hard – see Vittorio Messina – a new path has been taken. And somehow we  feel secure walking along.