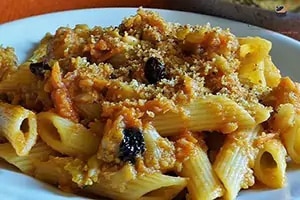 Broccolo arriminato
Broccolo 'arriminato' is the best recipe to take the autumn blues away. This exquisite dish has a privileged place in the Sicilian soul. Arriminato is the Sicilian word for mixing.  Very few recipes represent and recall a feeling so strong as this one does. It can be make with white cauliflower. This is standard recipe, make it your own though. It is not only a good way to prepare cauliflower, it is an excellent way to please your diners.
Prep Time

15 Minutes

Cook Time

30 Minutes

Total Time

30 Minutes

Serves

4 People

Calories

400 kcal
Ingredients
1 cauliflower

400 grams of pasta

1 onion

5 anchovy fillets

100 grams of tomato sauce

50 grams of breadcrumbs

1 spoon of raisins

1 spoon of raisins, 1 of pine nuts

safrron

salt, olive oil
Instructions
Fill a pot with abundant water. Make sure your cauliflower will fit in without spilling over. Do not salt the water
Clean your cauliflower, cut same sized florets and wash. Add them to the boiling water for 15 minutes
toast the breadcrumb till golden brown
Fry the sliced onion in olive oil, add saffron, raisins and pine pits
Use a skimmer to transfer the cauliflower to the pan. Add the tomato sauce and a cup of cooking water
Add two teaspoons of salt to the water, then the pasta
Transfer the pasta at three quarter of the cooking time to the pan and stir. Add cooking water when dry
Serve with the toasted breadcrumbs
Notes
Broccolo arriminato contains many ingredients that characterise Sicilian cooking. Sweet, slightly sour
raisins
. The unmistakably dept and warmth of
tomato paste
.
Umami
all over the place with
anchovy fillets
. And last but not least: the crunch of toasted breadcrumb. 
Comfort food
: This recipe has many variations, regional and personal ones. There is some trifling discussion on the use of tomato in this recipe. Some use half a spoon of tomato paste instead of sauce while others do not use tomato at all. Same goes for the use of cheese. It is up to you. And let us know if something good comes out.The oven-baked version, when the pasta  is poured in an oven tray and baked for 15 minutes is magnificent.