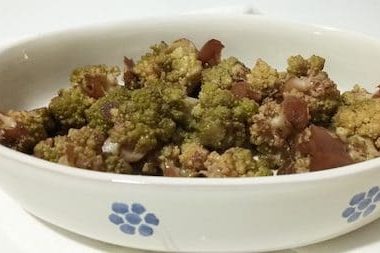 Broccolo affogato
Although an easy and tasty dish, this recipe is rather unknown outside Sicily. An explanation might be the simplicity, the unbelief so little can create so much. Drowned (affogato) cauliflower is a dish that recalls winter festivities, where food is the protagonist. It is usually served as a side dish but could act as a salad. Some even eat it with pasta. As it often happens in Sicily, the dish is contested between Palermo and Catania. In Catania red wine is used while Palermo uses white. The outcome is different, so try both versions. Adding pine nuts and raisins make the dish unmistakably Sicilian.
Prep Time

15 Minutes

Cook Time

30 Minutes

Total Time

45 Minutes

Serves

4 People

Calories

300 kcal
Ingredients
Cauliflower (about 642 grams)

1 onion

1 glass of wine (red/white)

4 anchovy fillets

3 spoons of tomato paste

20 grams of pine nuts

20 grams of raisins

olive oil, salt and pepper
Instructions
Cut your cauliflower in even sized florets, wash them thoroughly
Fry your diced onion in olive oil, in a large pan
Add the florets, raisins and pine nuts
Leave them simmering for about 10 minutes, stirring now and then
Add the wine followed by the tomato paste
Cover the pan and let it bubble away fro about 20 minutes
Notes
This dish can be prepared with broccoli. Just lower the cooking time. It has a stronger, more decisive taste and may contrast with other dishes. Other possible variations are the adding of olives, the use of 
tomato sauce
 instead of paste and parsley. This recipe does not like numbers. Make it your own by trying. Some say that broccolo affogato was one of 
Goethe's
 favorite dishes during his Sicilian Travel. Drowned cauliflower are an excellent side dish. Served together with a main dish. Ideally drink the same wine you cooked the broccolo with.