In the beginning there was chaos
What at first sight may resemble yet another chaotic Italian gathering, is actually governed by a set of rules. And although merely implicit, rarely trespassed. What happens at home in the morning, in the kitchen or around the table is only kind of breakfast. A morning ritual if you please. Children have milk and biscuits, adults a cup of coffee. Because a day starts with coffee, that is doctrine, not a habit. A comfortable seated breakfast is virtually impossible since school starts early.  This is the time of the day when people decide, make plans and swear oaths. The highest levels of Italian stress root in the time between waking up and leaving the house. So if you believe Italians are a nervous folk, better think again. They are actually chilling from the morning frenzy.
Vulgarly generalising one could say the traditional breakfast consists in 'café e cornetto', just as well one could say Italians eat pasta for lunch.
Once the children are at school and people realize they are late anyway, they head for the bar. Jasmine starts perfuming again and time ticks instead of palpitating, Italians relax and are ready for their traditional breakfast. 
Vulgarly generalising one could say the traditional breakfast consists in 'café e cornetto'. Just as well one could say Italians eat pasta for lunch. The coffee has countless variations, especially in the morning. That is the only time of the day you can add milk without being looked at questionably. Cappuccino, café latte, schiumato, macchiato, you name them. There is an anecdote saying that the late princess Diana once ordered a cappuccino after an informal dinner in some villa in Sardinia. To supress the astonishment apparently all guests did the same and still refer to the event as the cappuccino-incident. 
When milk is involved, the chosen food, cornetto or else, is served at the same time. Coffee alone instead is served only after having eaten and the barista receives a clear sign the client is ready for coffee. The reason is rather simple: coffee must be served hot, piping hot. 
The main skill is knowing how to prepare a good coffee. A gift that may seem obvious but believe me, is not. The grinding of the beans  to the right coarseness, for example, depends on the surrounding humidity.  Utterly important is the quantity of coffee a cup must contain, especially because a cup is not just to be filled up. Although there is no gradation in the cup, too much or too little will upset clients. A good barista makes a good coffee.  Then there is the skill  of  remembering his customers. Who wants to be addressed by name or title. Who's in for a joke and who needs time to wake up. And who prefers sparkling or still water to accompany the coffee.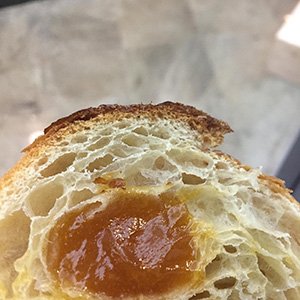 Time is particularly important in the breakfast ritual, mainly because there's little.
Time spent in a bar should not exceed five minutes. An animated discussion over football is continued outside. You leave the counter for who comes next. Italian etiquette.
Who's paying for all this?
One of the reasons going to the bar for breakfast is so popular, I've been told, is the cost. Everybody can afford it, moreover, you can offer it to somebody as a great gesture without impoverishing. Often there is insistence on paying for someone else with theatrical and embarrassing scenes where the cashier has to act as a Solomon like figure. Technically known as 'potlatch', this phenomenon gives people with lower social status a possibility to rise up – the blue collar worker offering breakfast to a lawyer, a lawyer to a judge, and so creating a debit, coercible in future occasions. A different reaction takes place when the opposite occurs. The gesture will anyhow be appreciated but a bitter feeling, the one of being patronized, may remain.