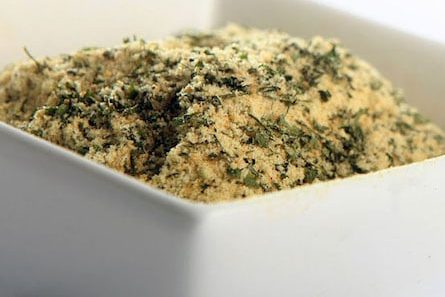 Breading may not be invented in Sicily. But it is sure is a popular cooking technique. When coating fish, meat or vegetables, it procures you with crunch. A crust that keeps liquid hence taste trapped inside.
When used as filling, it fills. This is pure genius. Little fish or meat becomes a worthy serving. 
We must insist in underlining the difference with plain bread crumbs. Sicilian breading comes seasoned. And cannot be bought. 
It all starts with stale bread. Not necessary bone dry. Use a blender to tear it up. Add a chopped up clove of garlic and parsley. Leave some texture to the mix, don't overdo it with the blender.
Only then add the grated caciocavallo cheese. Pecorino and potentially even parmesan do the trick. Pepper and nutmeg are valid optionals.
Store the remaining breading in the freezer. In a paper bag.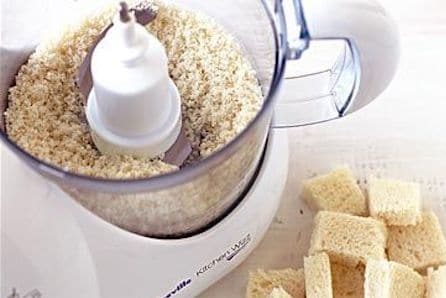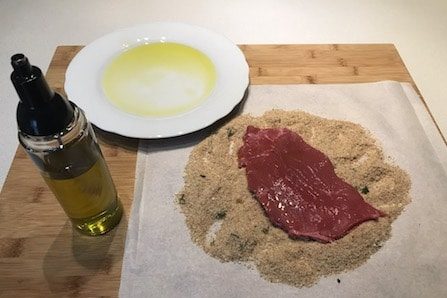 The Sicilian breading stands out from other coatings. First of all for the ingredients, as described above. But also for being light. Whereas others use flour and beaten eggs, we use olive oil.
Instead of frying you may as well bake the breaded food. Though the best way is grilling.
Use some energy to make the coating stick. Push, turn, and push some more.
Stretching ingredients is a sign of intelligence. Not of thrift. Sicilian polpette are not complete without. 
Whatever food has cavities can handle breading. Filled cuttlefish, involtini, you name it. They all thrive on the magic mix.
And why not. Add a dash of milk to the mix, roll little balls and fry them. Only if you're ready for a taste of paradise.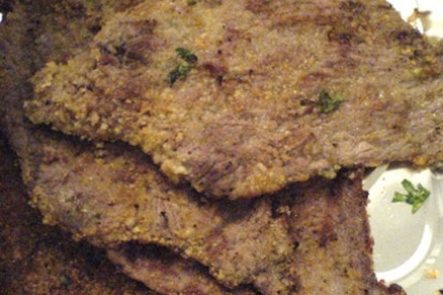 Using this mixture as a coating protects your food. It is therefore ideal when barbecuing. Swordfish, cutlets, zucchini, eggplant. Even sausages. 
Fresh mint gives the mixture a summery aspect. Chili pepper on the other hand tends to cover taste. Better add it later, after cooking.