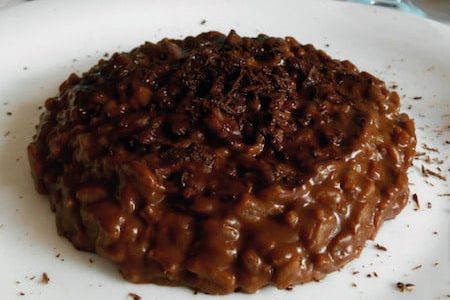 Black Sicilian Chocolate Rice
Black Sicilian Rice is typically made to honour the Tindari Madonna.
Local legend tells that the lagoon was created after a pilgrim who came to see the Madonna refused to pray to the Madonna because she was black. The woman accidentally dropped her baby into the ocean and the Madonna made the land rise to save the baby. The sands of Marinello have taken shape of the profile of the Madonna.
Prep Time

5 Minutes

Cook Time

40 Minutes

Total Time

45 Minutes

Serves

4 People

Calories

375 kcal
Ingredients
500g of rice

1 litre of milk

250 cl of water

200g of caster sugar

150 grams of almonds

150g of chocolate

50 grams of cocoa

Cinnamon, vanilla and orange zest
Instructions
Toast the almonds and set them aside
Melt the chocolate and cocoa in a little milk over a very slow fire
Bring the rest of the milk and water to a boil
Add the chocolate cream, rice and sugar
Stir regularly
Add the vanilla and cinnamon and zest
When the rice sets, add the toasted almonds
Transfer the rice on a tray
Let it cool down before serving
Notes
Black Sicilian Rice is a true show. It often comes topped off with
candied
fruit.Much of the outcome depends on the chocolate used. Go for dark,
fondant
chocolate. Use whole rather than skimmed milk.Use
organic
oranges. The peel is specially vulnerable to pesticides. In alternative use 4cl of
tripe sec
.This dish honours two saints.
Madonna of Tindari
. The Tindari Madonna was after all black.
Nigra Sum Sed Formosa.
Which translates as
I'm black yet beautiful. 
And
Saint Lucy
because on December 13th you're not supposed to eat wheat.None of both prohibits to serve this
delicious
desserts on any other day.