Summertime, heat, sea, beach. A phenomenon most of you living in the northern hemisphere yearly experience.
Beach equals holidays, freedom, relax. Especially for those who do not live nearby. The tedious trip that brings them there must be compensated. And that is usually done by stretching the permanence. Then having food available becomes fundamental. 
Whatever you prepare must be hauled. Under the blazing sun. And a cool box ain't exactly easy to carry. 
Do you bring healthy food? Fruit and easily digestible dishes nobody really likes? Or do you make it a feast? In Palermo people seem to have no problem digesting 'pasta al forno'. So don't be shy with mayonnaise when preparing cold salads.
Rather concentrate on keeping drinks cool. Warm drinks do not belong at the beach.
Not all beaches are the same. And tastes vary. But how not to mention the Brazilian beaches. Vendors offer a variety of beach food that should be exported all over the world. Grilled cheese, prawn skewers, fresh coconut.
Till then, enjoy your ice creams. There is no better place to savor them. Don't be cheap, let the kids have what they want.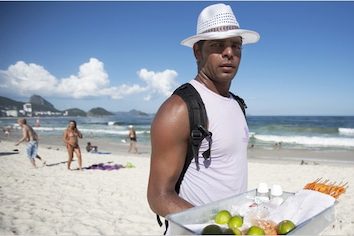 A trifle boring but plain water is a winner. Apart from drinking, you may use it to clean hands. Beer at the beach plays nasty tricks. As do most alcohol containing drinks. Have them later. 
The characteristic you are after is refreshment. Taste comes in second. Home made lemonade is a nice choice, too. Avoid sparkling drinks. Once out gas they lose their reason of existence. 
The fact it has the word sand in it does not make it adapt to the beach. They are hard to balance. Too little ingredients and they are sad. Too loaded and they are hard to eat. 
Sandwiches have two major problems. And that is temperature. They are ideally eaten at room temperature. Just that what the beach does not offer. The other problem are your hands. No matter how hard you try, they'll have sand on them.