Sfincione is a Palermitan affair. And as it often occurs in family affairs, there are two currents. The one in Palermo is red, due to the tomato sauce. Bagheria bakers use tuma or ricotta cheese, hence preparing a white sfincione. Since family in Sicily is sacred, the two currents happily live together. As the Bagheria sfincione fest proves. Especially since they have a common goal: obtaining the much desired DOP, the Protected designation of origin. 
Third edition of Bagheria Sfincione fest
Mister Balistri and Catanzara of the 'La Piana d'Oro' organization explain that a DOP nomination would crown their dedication and hard work. This third edition is organized by La Piana do'Oro and  'Pro Loco Città Delle Ville'.  The local 'Slow food' group selected a group of five bakeries to represent the famous 'White Sfincione of Bagheria'. Out of the ten stands participating, six are local bakeries, four coming from nearby cities and towns.
It does rain in Sicily. Not often, but last weekend it did. It created some inconvenience but people showed up anyway. What risked to turn into a soup kitchen sight became a happy meeting under united umbrellas. And it goes to say that sfincione is a delicacy for all seasons.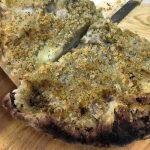 Working with sfincione is a delicate affair. The ingredients are few and highly recognizable. That is probably why all of the participating bakers are secretive and taciturn about the preparation. They do put a lot of effort in transmitting their skills in your pleasure. With success.  Whereas the popular appreciation usually goes no further than good or bad, the professional judges take it to a higher level. Sensorial scrutiny and severe arbitration, considering aspects us mortals overlook. 
We had a heated debate on a potential winner. Which shows there can't be one. Or better, only one.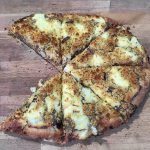 A popular pole elected the white sfincione over the red one with a smashing 70 percent to thirty. A home victory. Other winners were Panifico Tusa from Monreale, Panifico Grasso from Palermo, Panifico La piana della Bontà from Piana degli Albenesi and il Bar del Corso from Lercara Friddi. The organization was in the capable hands of Rossella Scannavino.
The day after after the fest
Although I had a fair share of sfincione yesterday, the food-hang-over is acceptable. No insatiable thirst last night, no puffed up feeling. Sfincione is no longer a run of the mill product. My personal best memory to the fest goes to this morning. Breakfast of champions with cold sfincione. Things can't go any more DOP what us concerns.