If there were a distinction between vegetables one could eat raw and other that need to be processed, the aubergine would crown the list of the latter. Potato and pumkin following with dignity. Whether out of irony or rather as a warning, Italians call the dark vegetable 'melanzana' which could translate as 'bad apple'. It is, when eaten raw, slightly poisonous and extremely unpalatable.
In Sicily the harvest period is long, originally covering the period from June to October. With modern alchemy the season is stretched even further and now almost covers the whole year, excluding the winter months. They can be dried in summertime and then prepared in winter. For those who can't live without.
The aubergine is a quite easy vegetable to process. Acting like a sponge it sucks up surrounding liquids and flavors. They are notorious for absorbing oil. As said before, they cannot be eaten raw, but on the other hand, any form of heating does the trick.
Usually the aubergine is first sliced up and sprinkled with salt and left sitting for some time – from an hour on. The bitter liquid it contains will emerge and can, with some artless dabbing, be eliminated. This is a necessary step when you are going to fry your aubergines: water and hot oil do no like each other.
Make sure to remove as much water as possible before you start frying: it makes the boiling oil splatter, the results in soggy aubergines since the remaining water boils inside the vegetable. Try to keep the temperature of the oil under 175 degrees and take your time. Use olive oil to fry in.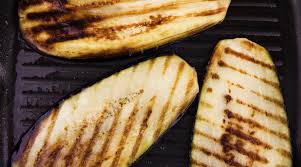 Easy peasy: one side, then the other. Aubergine cooks quite quickly but do not undercook them. Avoid seasoning them in advance. A drizzle of oil, some mint or other herbs are enough to obtain Mediterranean touch. They tend to be better the following day, eaten cold.

Although it does have a proper taste, added ingredients usually take the honors. Perfectly aware of being on thin ice, a certain similarity with tofu comes to mind: they need preparation. Both have a quite neutral taste that allows you to build on.
The recipes are countless, most of them particularly tasty; even thrown against a wall it would make a good dish.
We are though going to stick to what Sicilians eat and serve. Most of them are easy preparations, if you can get hold of the ingredients. We will provide you with some alternatives as long as you won't be telling you got them from us. Because when it comes to aubergines, the locals are a bit touchy.
Aubergine pasta - pasta alla Norma
Pasta alla Norma is said to be Sicily best known pasta dish. Notwithstanding the international acclamation and praise, it remains a simple condiment, featuring no more than tomato sauce and aubergines. Named after Bellini's opera 'Norma' one might expect a trifle more dramatic dish. The true star in the recipe is probably the cheese: ricotta salata.
Ricotta salata
Fresh ricotta is left to dry in the Sicilian sun and sprinkled with salt. After a month or so it obtains an intense, pleasant and unforgettable taste. A generous grating may adjust a mediocre tomato sauce and even grant questionable aubergines benefit of the doubt. In contrast to better known and ready available Parmesan cheese, this product recalls freshness and has, notwithstanding its relative short ripening period, a lot of depth and character.
Preamble
Since you are going to fry your aubergines, some simple instructions should be followed. Dry the aubergine well, rinsing away of the salt and liquid. Water is the biggest enemy of frying. Do not overheat the olive oil and take your time to fry. Some cut the slices in cubes, some don't. It will not influence the final result as far as taste matters.
Premise
Norma is part of the tomato sauce family pasta, and prepared given to guests. Very much appreciated by friends and family, in Italy it should not migrate from that circle. Since it is going to be exotic for your guests, this adagio loses its validity. Make up to the scarcity of the dish by verbal adornment: how the saltiness of the cheese interacts with the almost sweetness of the tomato sauce, resulting in a rare sapidity, lifting the aubergine to levels that make you giddy. How the marriage of two ingredients -tomato and aubergine- is celebrated with pasta and cheese. You might want to play 'Casta Diva' from the Norma opera while your guests dig in. Look for the Callas version.
Apart from industrial made caponata, which is not bad at all, there are no two same recipes. Differences occur from province to province, town to town, door to door. Probably more than a recipe it should be considered as a preparation. Ingredients vary little, and the sweet sour effect is omnipresent, the difference lay in details.
Caponata is usually eaten cold, as a starter dish. Get yourself a piece of bread to mop up the sauce, and a simple meal is served.
Ingredients for four
Preparation
Variations
Ingredients for four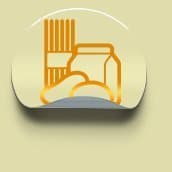 750 grams of aubergine
250 grams of celary
250 grams tomatoes, tomato sauce will do fine too
150 grams of green olives
60 ml of wine vinegar
60 grams of sugar
40 grams of salted capers
Salt and oil
Preparation
Variations
This is probably the best change you'll ever have to serve some Italy on your table. Not all that hard to prepare, this dish has earned its stripes. Simply pronouncing the name makes people salivate and dream away. The name is a trifle confusing: it does not refer to the region around Parma and its renowned cheese but to the Sicilian word for wooden window shutters since they resemble the layers used in this dish. Eaten cold or hot, right away or the following day, they'll never let you down. And your vegetarian friends can dig in as well. The vegan, I am sorry to say, will have to pass since it contains cheese.
Ingredients for four
Preparation
Ingredients for four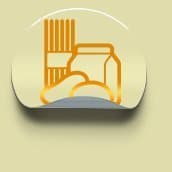 750 grams of aubergine
750 grams of tomato sauce
250 grams of soft cheese (mozzarella, well drained)
100 grams of seasoned cheese (pecorino)
1 onion
basil leaves, salt and oil
Preparation
Aubergine balls - polpette
I somehow feel sorry for proposing this recipe. As introducing innocent people to drugs, knowing they'll never get rid of them. Aubergine polpette are tasty, quick and seducing. You can add what you have left in fridge. Polpette are the last call for ingredients with one foot in the trashcan. Let's stick to aubergines just now. There are two distinctive ways of preparing them here. One is by cutting them up in cubes and boiling in salted water. It is fast and the bitterness is eliminated. The downside is the presence of the dark skin. The second method is roasting the whole vegetable in the oven. It is then peeled. Pretty easy too. No dark skin but a decisive bitter touch to the pulp.
Ingredients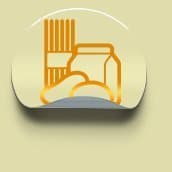 2 aubergines
2 eggs
150 grams of bread crumbs
150 grams of grated cheese. Use a hard cheese such as pecorino, grana or parmesan.
1 clove of garlic
Basil, mint, salt, pepper, oil
Preparation