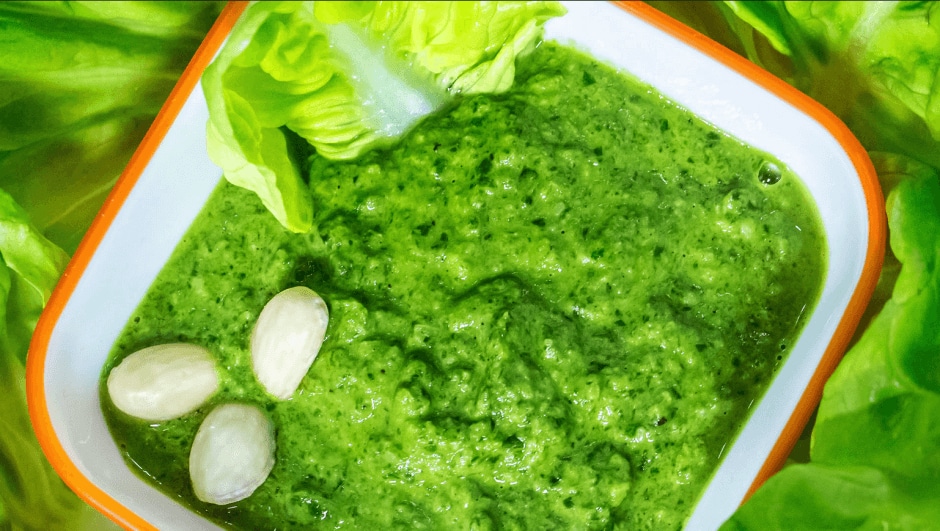 Lattuga pesto
Lattuga, the Italian for lettuce, is highly aphrodisiac. Even the ancient Egyptians knew that. Other two ingredients have similar potential: garlic and almonds. And olive oil is an excellent lubricant. The recipe serves four people. It is up to you to store half of the pesto or use it all at once.
This pesto goes on pasta. Or use it as a spread.
Prep Time

10 Minutes

Cook Time

10 Minutes

Total Time

20 Minutes

Serves

4 People

Calories

200 kcal
Ingredients
200 grams of lattuga nostrana, lettuce romaine

50 grams of peeled almonds

2 cloves of garlic

50 cl of EVO

salt q.b.
Instructions
Roughly cut the lattuga
Sauté garlic in a pan
Add some water and mix
Add the the lettuce and some water
Leave it on a slow fire for about 20 minutes
Blend toasted almonds
Add the lettuce and oil, continue the blending
Notes
This is a simple recipe. So much depends on the ingredients. Instead of lattuga nostrana on may use endive. Or other kinds of lettuce except iceberg.Regarding the garlic, there are two schools of thought. Some take it out, others blend it in. This is very much up to you. Although we advice against it, some use
walnuts
.  Lettuce pesto goes wonderfully with pasta. Don't forget to add a cup of cooking water when mixing the pasta with your
pesto
. It makes it creamy without using cream.To enhance the aphrodisiac effect, better use it as a spread. That way you can feed one another. Which is pretty cumbersome with hot spaghetti.Serve with chilled sparkling wine.Federico ll Rex Sicilie Millesimato Metodo Classico Brut 2008. Why not?