Pasta c'anciova e muddica  is a typical dish served in a trattoria. A place that serves normal food. Where normal people go to eat. And where the bill is normal, too.
A trattoria usually serves lunch to people who can't lunch at home. Hence the homely setting of the place. The served dishes are the opposite of surprising. They match expectations only trattorie manage to fulfill. 
When you happen to be in Sicily, don't miss out on pasta c'anciova e muddica. For reasons unknown this remained a local dish. It stands out for simplicity, taste and uniqueness. No fresh nor fancy ingredients needed.
Yet the harmony among the ingredients is spectacular. What may appear as a loutish dish is actually pretty refined.  
Anchovies give the dish its umani aspect.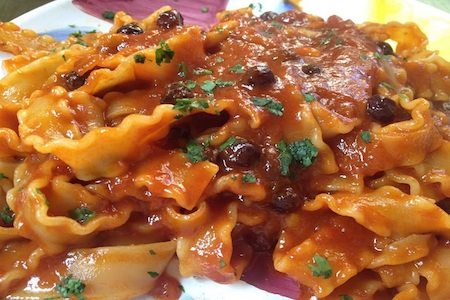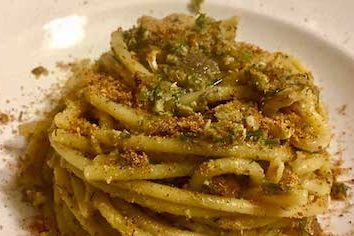 Pasta c'anciova derives from the iconic pasta with sardines. This dish contains fresh sardines and wild fennel. It is emblematic for the Sicilian cuisine.
Migrating northwards Sicilians did not find fresh sardines. Hence this version. It is also know as pasta alla Milanese. Because Milano has no sea and no sardines. 
Pasta c'anciova is a truly unique dish. First there are the ingredients. Anchovies, raisins, toasted bread crumbs. All of which characterize the Sicilian cuisine. Raisin add sweetness, toasted bread crumbs add crunch.
All ingredients are fundamental. One may change quantity or play with cooking times. Ingredients though can neither be left out nor added.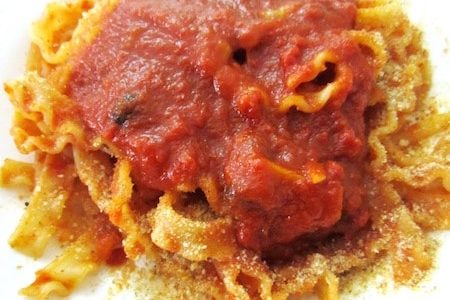 As stated above, pasta c'anciova is paradoxically fragile. In Palermo this condiment comes with reginelle. Elsewhere it may come with various types of long pasta.
The presence of roasted breadcrumb excludes the adding of cheese. Cheese somehow betrays the humble character of the dish. 
This is a simple dish. It does not accept embellishment. It is food, tasty food. The lack of being presumptuous makes even more adorable.