Alicudi is one of the seven islands of the Eolian islands. Eight if you count the inhabit island of Basiluzzo.
The archipelago takes it names from the demigod of wind, Aeolus. The volcanic origin makes them fertile. They produce capers and sweet grapes.
The lack of things to do drove the islanders away. And attracts tourist, escaping hectic lifestyles. Of all the islands, Alicudi is the remotes, the wildest.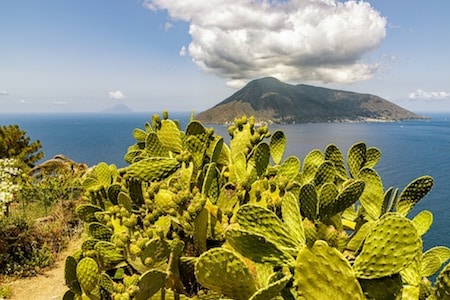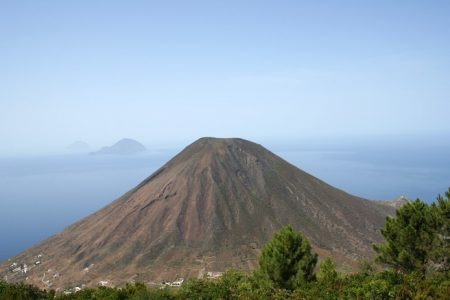 Alicudi is the westernmost of the Eolian islands. The name comes from the Greek word for heather (erica).
This island has no roads, no motorised traffic. There are though almost ten thousands steps, from the shore to the highest region. Islanders use donkeys to carry goods up and down. Often these goods are tourist's suitcases today.
More than fishing the island is agriculture based. With goats and sheep, peaches and capers. And rye.  
Around 1903 rye got infected by the ergot fungus. It turns rye black. But moreover, ergot produces the alkaloid called lysergic acid. The basic compound of LSD.
Though the rye was blackish, people of Alicudi milled the rye anyway. Spores spread and contaminating the island for years. 
Between 1903 and 1905 people ate rye bread and lived a two-year-long acid trip.
Alicudi was not the first region to experience ergotism. But being isolated prolonged the trip. People tried very hard to normalise what they saw. Life in Alicudi went on. With a new mind set. 
People had no idea they were drugged and took what they saw for real. Witches flying to the mainland, women turning in birds. These probably common themes became myths for later generations. Even now, more than a century later, Alicudians believe there is more than you can see.
Many islanders left Alicudi. Agriculture and fishing is simply too hard and little yielding. Tourism instead increases and is now the main source of income.
You either love it and return or hate it and never set foot there again. So they say. The lack of modern technology and light at night might explain that. The extreme beauty is apparently not enough for some.
Islanders are reluctant to talk about the mystery, about mysteries. When they do, better listen very closely.