Agrodolce: a Sicilian treat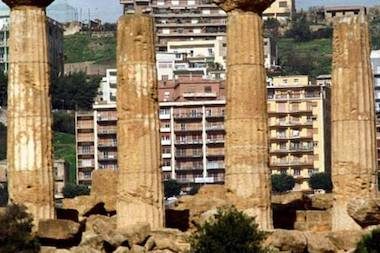 Agrodolce is not an exclusive Sicilian treat. But it is surely on of its cornerstones. 
Though we will talk about the culinary aspect, it can be found in other situations as well. Where mere beauty is contrasted with striking eyesores. Sweet and sour.  As in Agrigento. Home of the temple valley. One of the finest Magna Graecia remainders on earth. Contrasted with modern buildings and highways. 
Wonderful for who lives in those apartment blocks. Monstrous for those visiting. But don't worry, once transported sweet sour transfers to the kitchen, it pleases everybody.
Agrodolce, sweet sour is a very natural phenomenon. Many fruits combine these tastes. And since ancient times pomegranate juice is used to flavour dishes. The Arabs lent the technique from the Persians. And added honey. Honey was later substituted with cane sugar.
It took its modern shape using sugar and vinegar.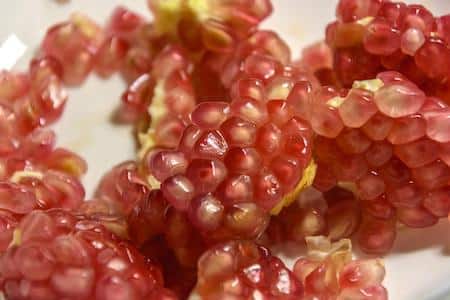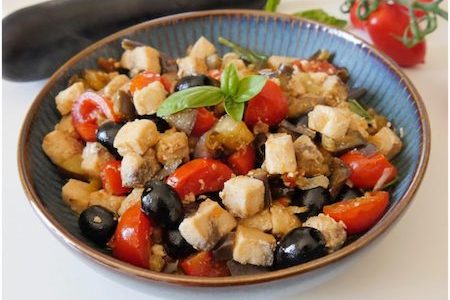 Caponata is an emblematic Sicilian dish. Traditionally caponata featured fish. Today it's usually prepared with less expensive eggplant. It further contains olives, celery, capers and onion. All are fried and mixed with a vinegar and sugar mix. Agrodolce indeed.
The eggplant can be substituted. With artichokes, green apples or fish. 
Caponata is a starter. And it comes with bread to mop the delicious juice up with. Highly recommended.
Pumpkin is a pretty versatile as well as widely available ingredient. And whereas the recipes are countless, one sticks out above the clouds. Sweet sour pumpkin. Or zucca all'agrodolce. Once again showing how the Italian language uplifts food.
Slabs of pumpkin are fried in olive oil and garlic. Then vinegar and sugar goes in. And it is served with fresh mint. 
Served as a starter, a salad or just because.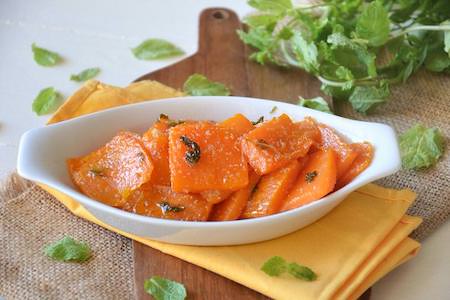 Sweet sour Sicilian Rabbit
Until not so long ago people ate rabbits rather than having them as pets. And a top way of preparing rabbit was, you guessed it, in agrodolce. In Sicily it comes as 'coniglio apparecchiato'. 
Although not exactly the same, it reminds the above mentioned caponata. With the adding of pine nuts and raisins. The Sicilian signature.
Very elegant and tasty is the version with wild rabbit. Or even hare. 
Tonno in agrodolce con cipolle. Sweet sour tuna with onions. Seldom the name of recipe is so adequate. This dish features on many Sicilian tables in the tuna season, from June to September. It is a  typical summer dish and therefore often eaten cold.
As it goes with sweet sour dishes, they taste better the day following the preparation. Served as such they are a rich 'secondo' or main dish. Cut up they serve as an astonishing starter.